---
This is Part 3 in our series of articles about getting started with Hierarchy Subscription Tools.
For other parts in this series, please click the links above.
Sometimes it makes sense to give one of your existing clinicians on MedBridge access to an Admin, KT Admin or Manager role. These roles provide access to additional organization management and reporting tools under the My Practice tab. For more information about user roles and what permissions they grant, check out this article: Role Permissions.
Roles can be assigned at various levels of your organization's hierarchy. You can think of roles as special access rights that span over a portion of your hierarchy. For example, in the below hierarchy, I may want to assign one of my clinicians an Admin role for the East Region, because they directly manages both the Atlanta and Austin clinic locations. When I assign them this role, this means they can view clinician engagement and perform organization management functions for the East Region only. They are not able to view clinicians performance or perform organization management functions outside of their region.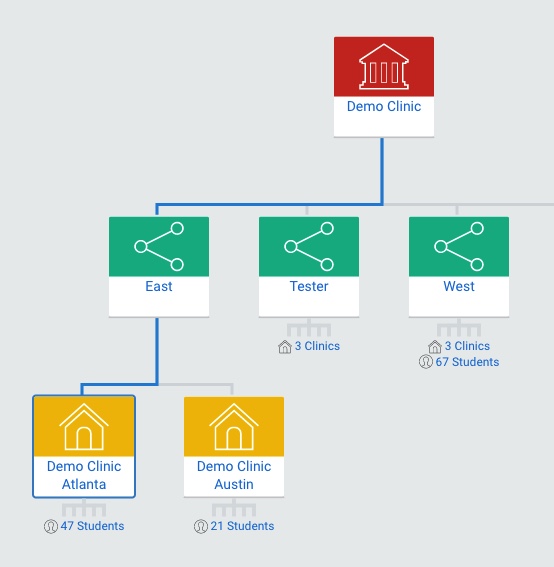 To assign an Admin or Manager role to a clinician:
First, log into your MedBridge account if you aren't logged in already.
Hover over the "My Practice" tab in the far right-hand side of your account and click on "Org Management". The first page you come to will be your Hierarchy.
Search for the desired user using the search bar in the upper left hand side of your Hierarchy page.

Once you have located your desired clinician, click "assign a role" at the top of their profile.

Once you have selected "assign a role", it will navigate you to the users profile where you can assign a role. You will select the role you wish to assign using the "Choose role" dropdown list and the location you would like them to have permissions over using the "Choose location" dropdown list. To learn more about the different roles, select the blue "Learn more about roles" link and you will be able to view what each role grants access to.

Once you have selected the desired role and location for the clinician, click the blue "Add Role" button to save your updates.
Congratulations, you've just assigned a role on MedBridge!