---
Connecting with your patients between visits is a great way to keep patients engaged and build a strong relationship with them. You can easily contact your patients via a message from the MedBridge platform.
To get started, you'll need to enable messaging when creating your patient's profile. After entering their name and contact information, check the boxes at the bottom of the page to enable messaging, pain, and difficulty ratings.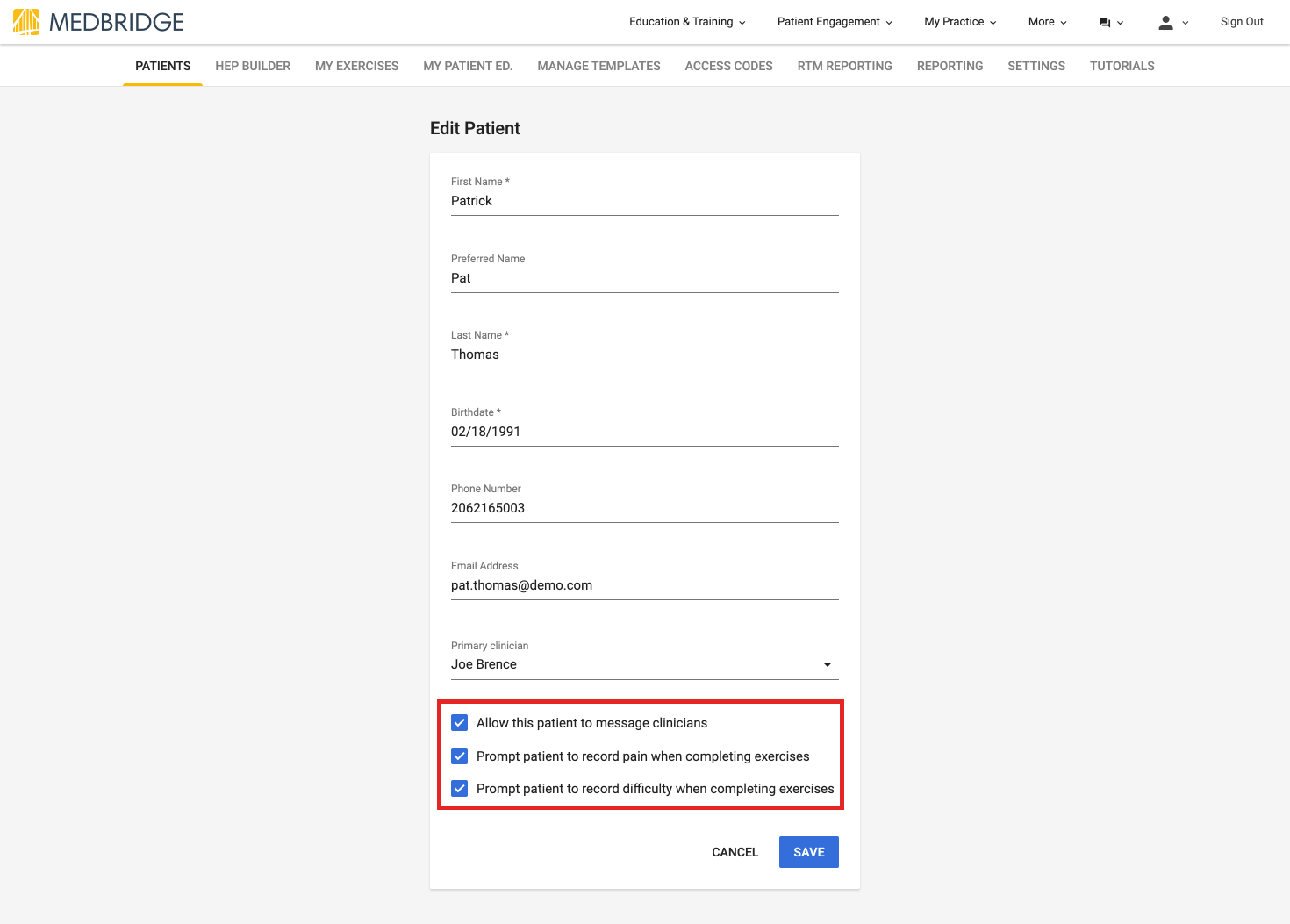 Once messaging has been enabled for your patient, you can access your conversations with them at any time from the patient profile. You can select All Messages at the top of the page, or select Episode Messages to only see messages related to the selected episode of care.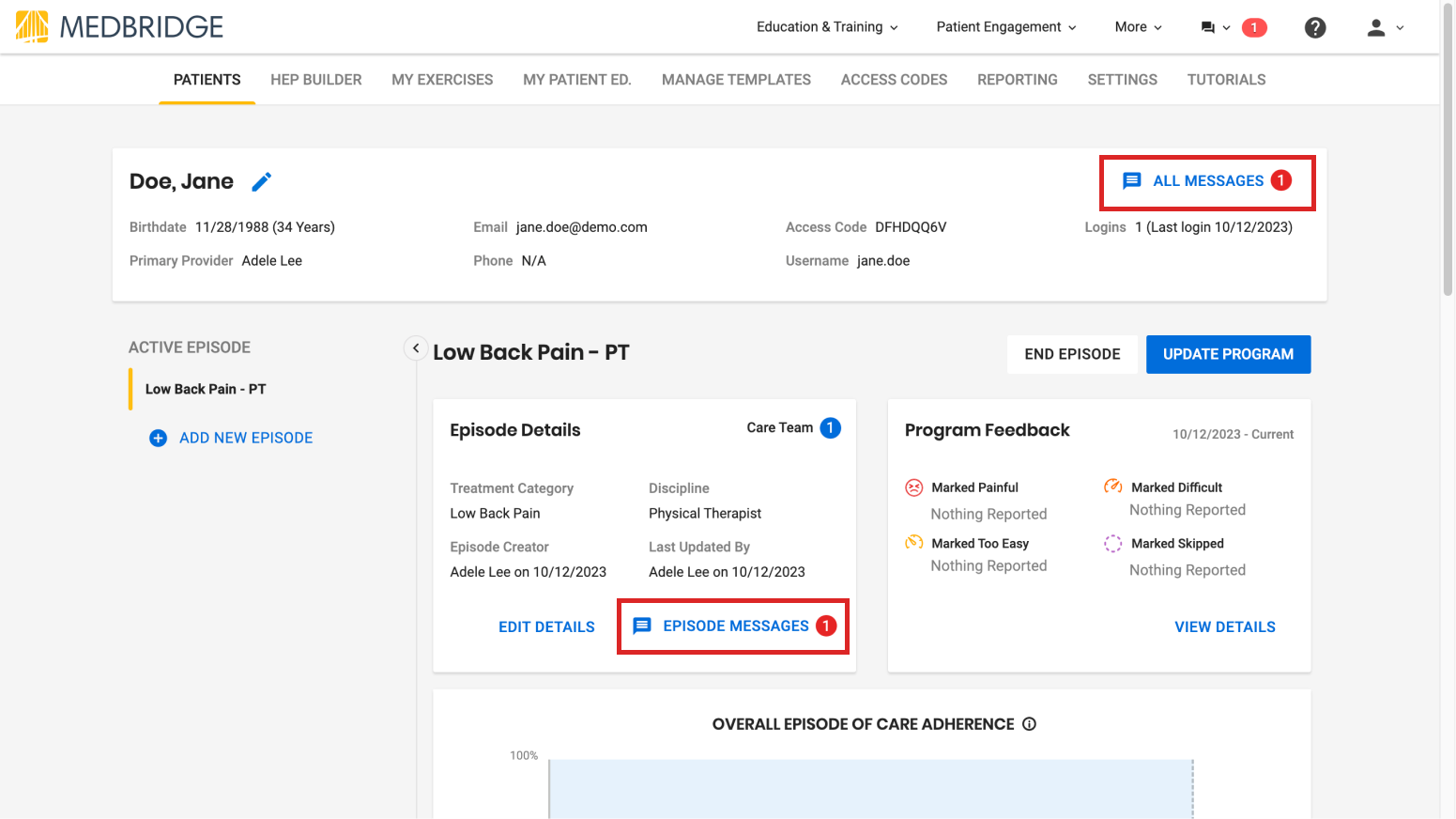 When the messaging panel opens, any unread conversations will be noted with a red dot.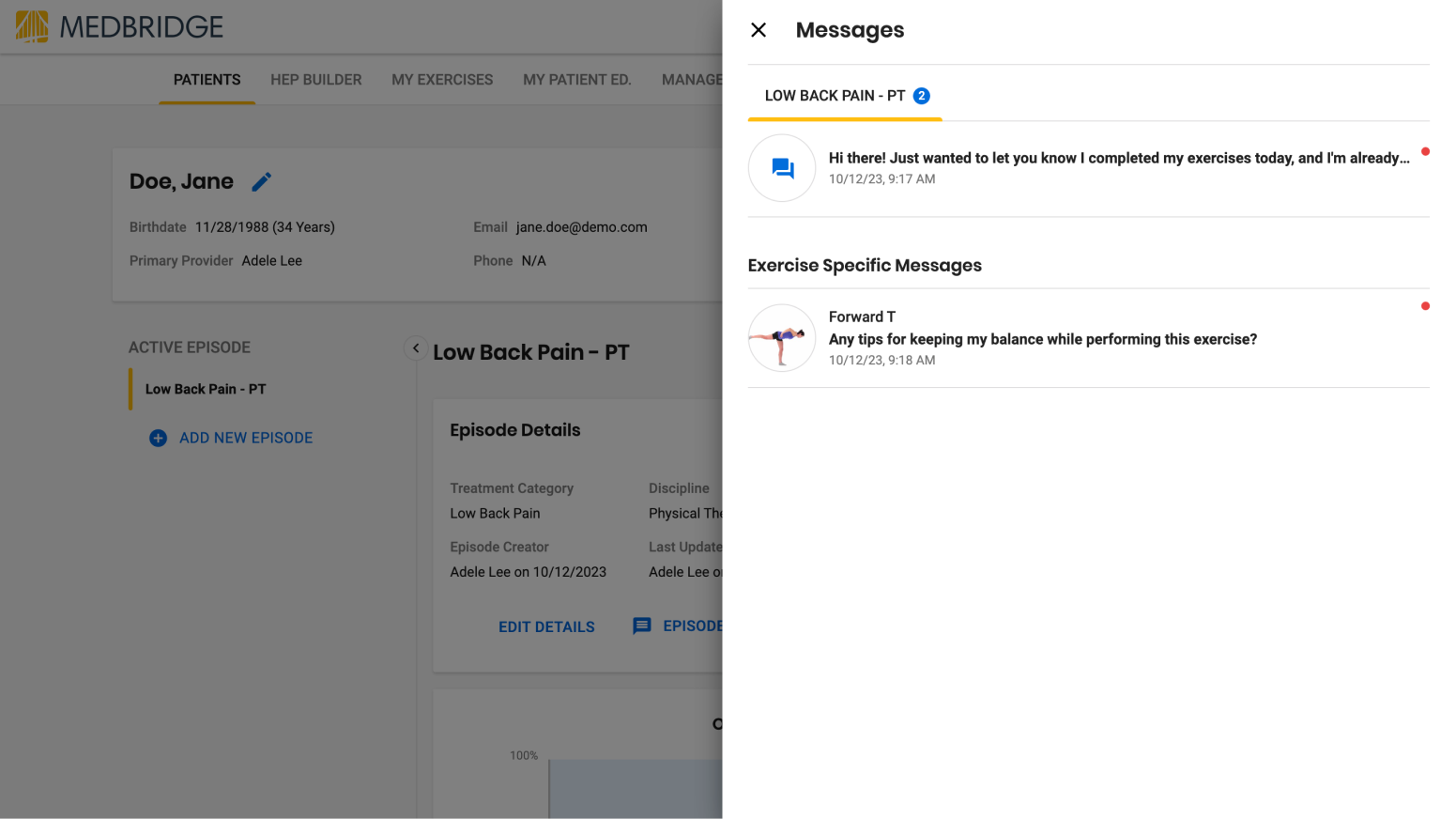 If patients have questions about a specific exercise, they can send a message about the exercise and a dedicated thread will be created. If they have general questions, those can be sent in the direct message thread. Select any thread to view and respond to messages.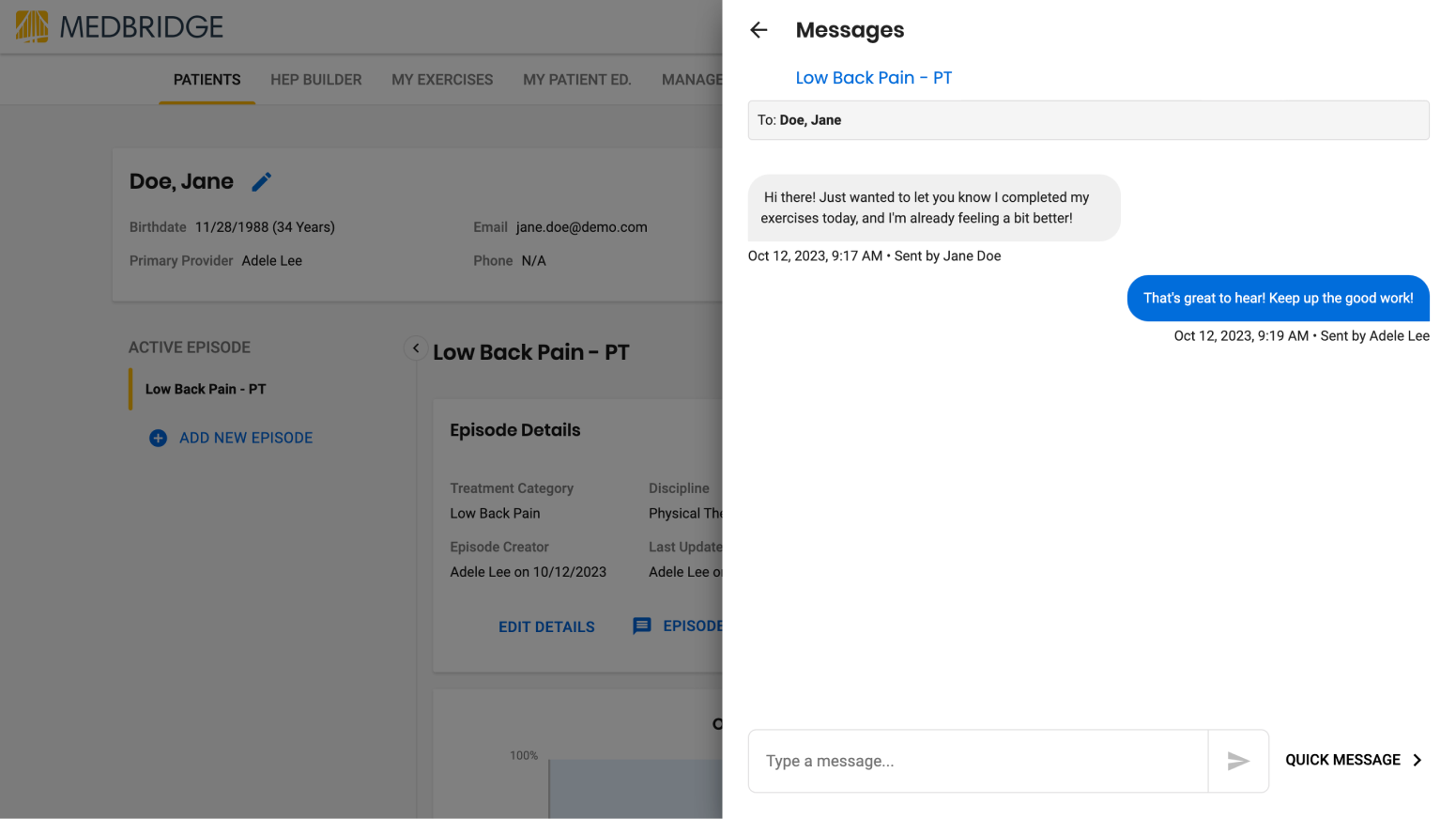 If you and your patients have not exchanged any messages, when you open the Messages panel, you can start a new thread by selecting Send Message.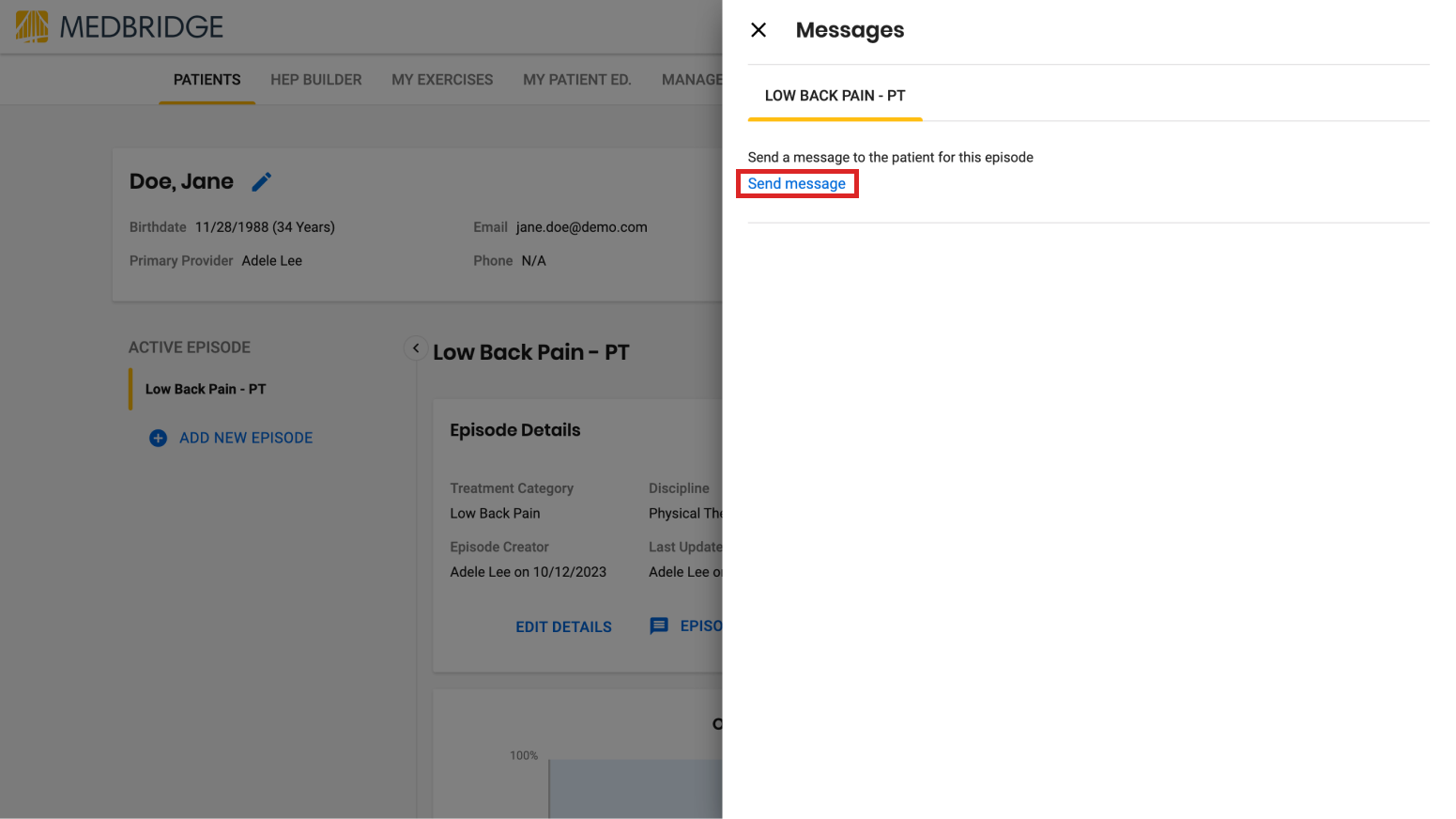 When reaching out to your patients, we've built in pre-written quick messages you can send to your patients. Sending one of these messages is a great way to quickly check in with a patient who isn't engaging in their program, and can help them get back on track with their recovery.
If you have a new message from a patient, you'll see a notification in the navigation bar at the top of the page when you first log in to MedBridge. You click that notification to see the message and be taken to the conversation on the patient's profile page.
In addition to notifications within the platform, you'll also receive an email each time a patient sends you a message. For any patients you are on the Care Team for, you will receive email and in-platform notifications each time a patient sends a message. Learn more about Care Teams.
Patient messaging can also be disabled at the organization and patient level. If you do not see the patient messaging options, contact your administrator to ensure the feature is enabled.
Note: This feature is available only for enterprise organizations using HEP Standard. If you or your organization is interested in upgrading from HEP Lite to HEP Standard, please contact our Sales team at sales@medbridge.com.