We are proud to announce updates to our user management and subscription management tools utilized by enterprise admins!
Admins will now see:
A new Organization Summary page when going to My Practice > Org Management.

A new interface for creating users.

A new interface for managing subscriptions.
The new Organization Summary page provides a high-level overview of the users and purchased subscriptions on the account, the assigned Customer Success Manager, and the month the organization renews in. You can still access the Hierarchy page by clicking the "Hierarchy" button at the top right.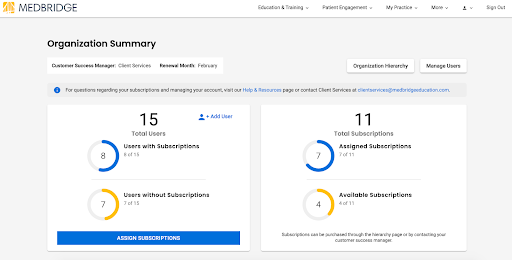 Another new feature on the Organization Summary page is to easily see a breakdown of your purchased subscriptions. You can view the subscription type along with how many of those subscriptions are assigned and how many are available to assign.

Along with creating a new Organization Summary page, we've moved forward the ability to create a new user and assign a subscription. To create a new user, simply click the "+Add User" icon on the Organization Summary page. From there you'll enter the user's details and create their account.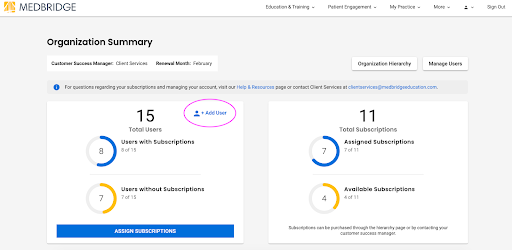 You should also be able to assign a subscription from the Organization Summary page. Simply click the "Assign Subscription" button and find your user from the list. On the user's page, you will be able to click a new "Assign Subscription" link in the Subscription Management box.
If you want to remove the subscription assigned to the user or replace the subscription with a different one, you will be able to from the users page by clicking the new "Manage" link in the Subscription Management box.
For more help with the Organization Management tools, check out the Getting Started With MedBridge Organization Management video series.