While our growing library includes over 8,000 exercises and patient education, we know that can't cover everything, and you may have custom exercises or modifications you like to assign to your patients. You can still provide those to your patients by uploading a custom exercise or patient education resources.
In this article, we'll review how to upload your own custom exercises, patient education videos, and handouts.
Uploading Exercise or Education Videos
After logging in to MedBridge, from your dashboard, hover over Patient Engagement and select Home Exercise Programs.
Select My Exercises or My Patient Ed depending on what type of content you'd like to upload.
Select the blue Upload New...  button.
Enter an Exercise/Patient Education Name.
Upload your video by dragging and dropping or selecting Upload your video. Videos must be smaller than 100 MB and in the MP4 or MOV format.

If you are uploading an image instead of a video, scroll down to Step 4 and click upload an image.

Edit the exercise description in the Write Description field.
Create thumbnails for the exercise by selecting Capture Thumbnail from Video or upload an image. You can press play on the video preview, then Capture Thumbnail from Video to capture a thumbnail of that frame. 

Tip: Exercise printouts look best with 2 thumbnails, but you can add up to 10.

When you're ready, select Save Exercise and you will be taken to a preview of the exercise. If you see that additional edits need to be made, click the edit exercise button.
Note: If you are an administrator at your organization, you can edit or remove exercises created by anyone at your organization.
Uploading Custom Patient Education PDFs
After logging in to MedBridge, from your dashboard, hover over Patient Engagement and select Home Exercise Programs.
To upload a Patient Education PDF, select My Patient Ed.
Select the blue Upload New Patient Education button.
Select Upload PDF.
Enter the Patient Education Name.
Select Choose File and locate the PDF you'd like to upload on your computer.
When you're finished, select Save Patient Education.You'll be presented with a preview of the new education resource. If you need to make any changes, select Edit Patient Education.
Adding Custom Resources to a Program
To find the content you uploaded, navigate back to the HEP Builder.
Custom Exercises can be found under the My Uploaded Exercises tab.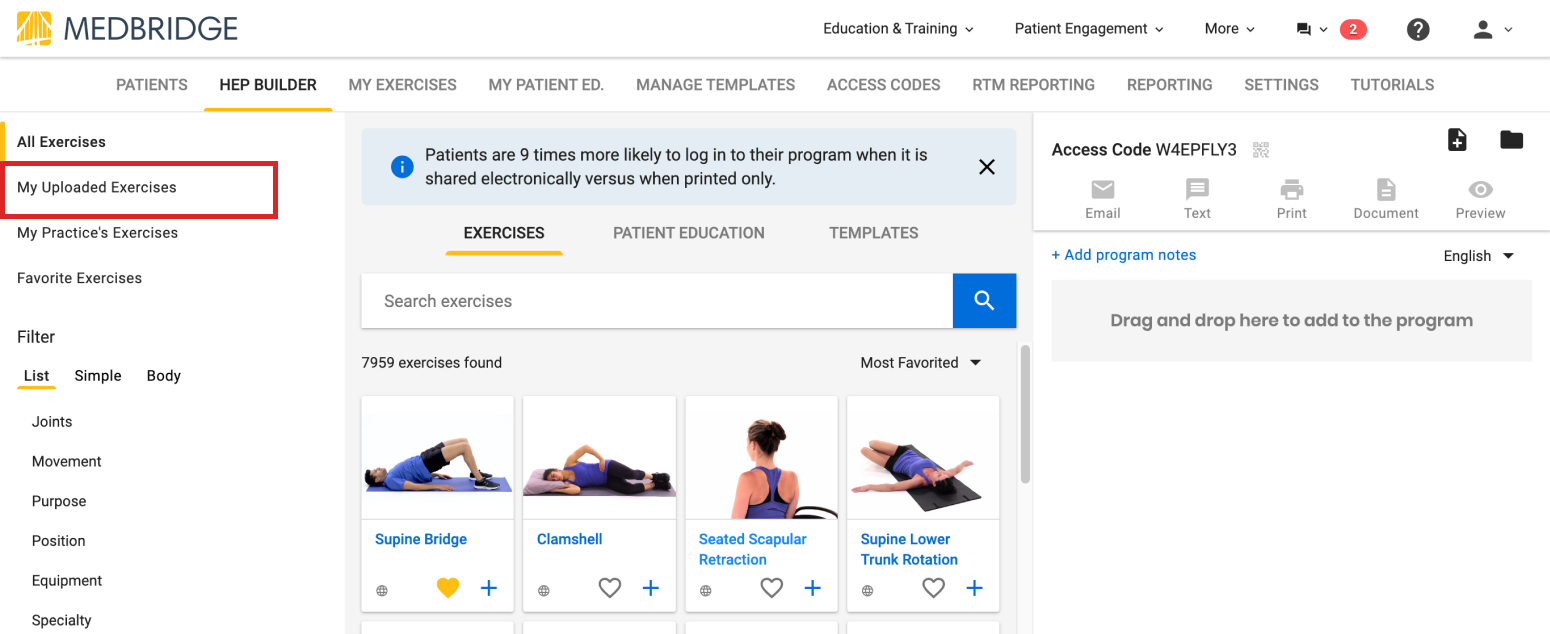 Custom Patient Education can be found under the My Uploaded Education tab.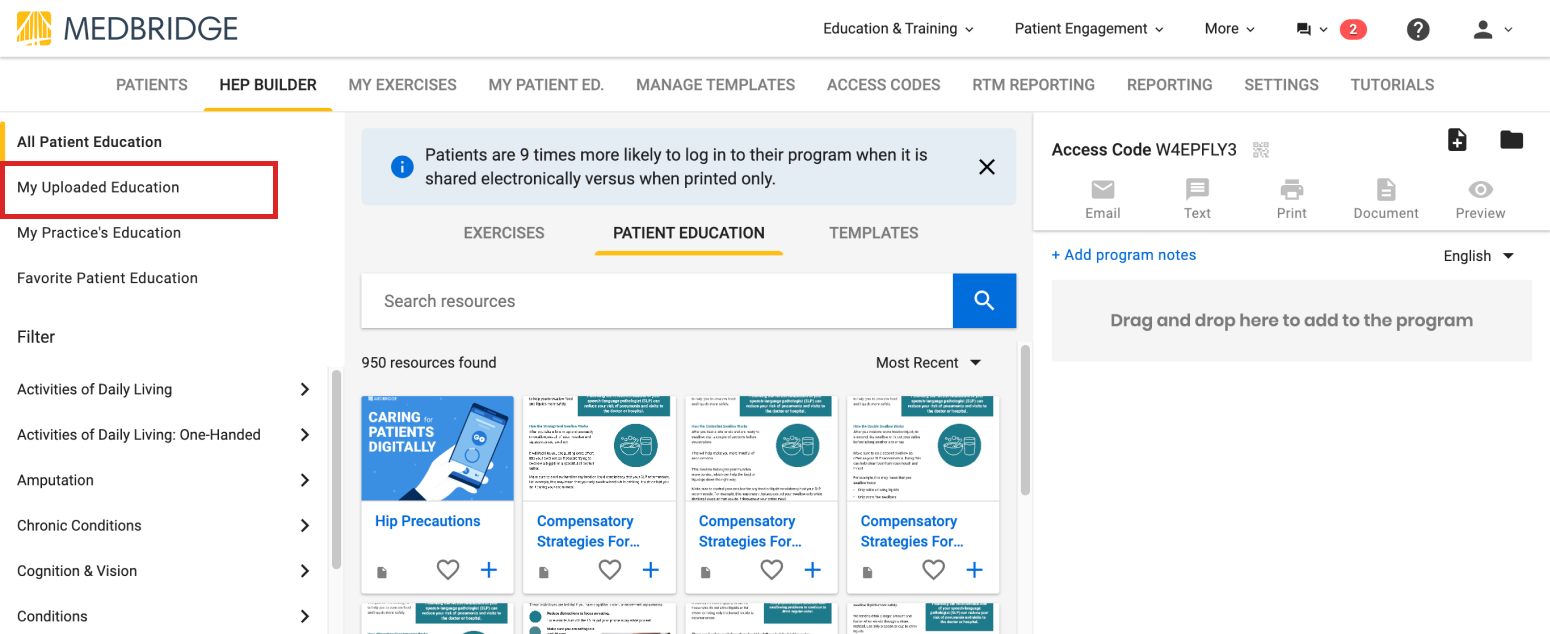 You can also find these resources by searching the exercise or patient education library. These resources can be added to a program the same way any other exercise would be - by selecting the Add Button or dragging and dropping the resource into the Program Builder on the right.