The Patient Adherence Tracker allows you to quickly see how your patients are doing with the exercise and education programs you assign. Your patients also have the opportunity to communicate with you in between their appointments so you can know:
If they are completing the program as assigned
If and why they are skipping exercises
If they are experiencing any pain during their exercises
If they find the assigned exercise too challenging or too easy
When the patient last logged in to their exercises
The adherence reporting dashboard (in the patient profile) will show you how well your patient is adhering to the program. You'll also be able to view more detailed information for the entire episode of care.
These features are part of our standard HEP Subscription. MedBridge HEP creates individual patient profiles within MedBridge, allowing organizations to attach assigned home exercise programs to actual patient names instead of access codes. Because the program is linked to the patient, providers can track patient adherence and program feedback as well as message patients directly. Our standard HEP subscription is available for organizations with five or more clinicians. If you'd like access to our standard HEP subscription, our client success team can help you through the process, which includes a HIPAA Business Associate Agreement (BAA) and an updated agreement with your organization.
Pain and Difficulty Tracking
When creating and assigning each patient's exercise and education program, you have the option to turn on pain and difficulty tracking. This allows you to receive valuable information from your patient, which you can then use to make adjustments to that patient's program.
How do I use the Patient Adherence Tracker?
1. Start by creating and assigning your patient's HEP and education program in the HEP Builder, which is linked to the patient's profile. If you'd like additional insights, be sure to turn on the pain and/or difficulty tracking options below. If you are working with an existing patient, you have the option to toggle pain and difficulty tracking options using the Edit Details button in the patient's profile.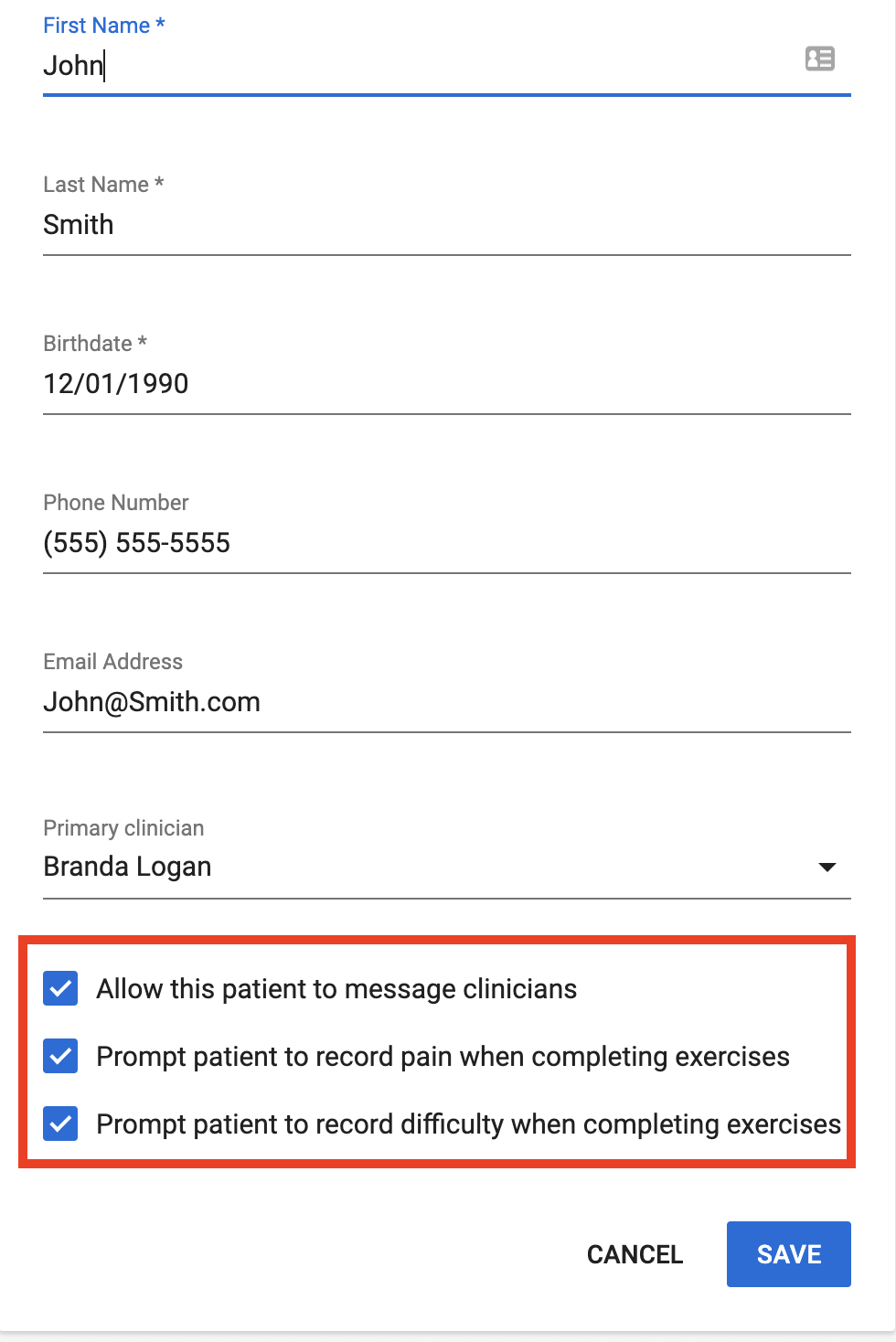 2. Your patient completes their program at home using either the desktop Patient Portal or the MedBridge GO app. When pain and difficulty reporting are turned on, your patient also has the opportunity to rate their pain and the difficulty of each assigned exercise.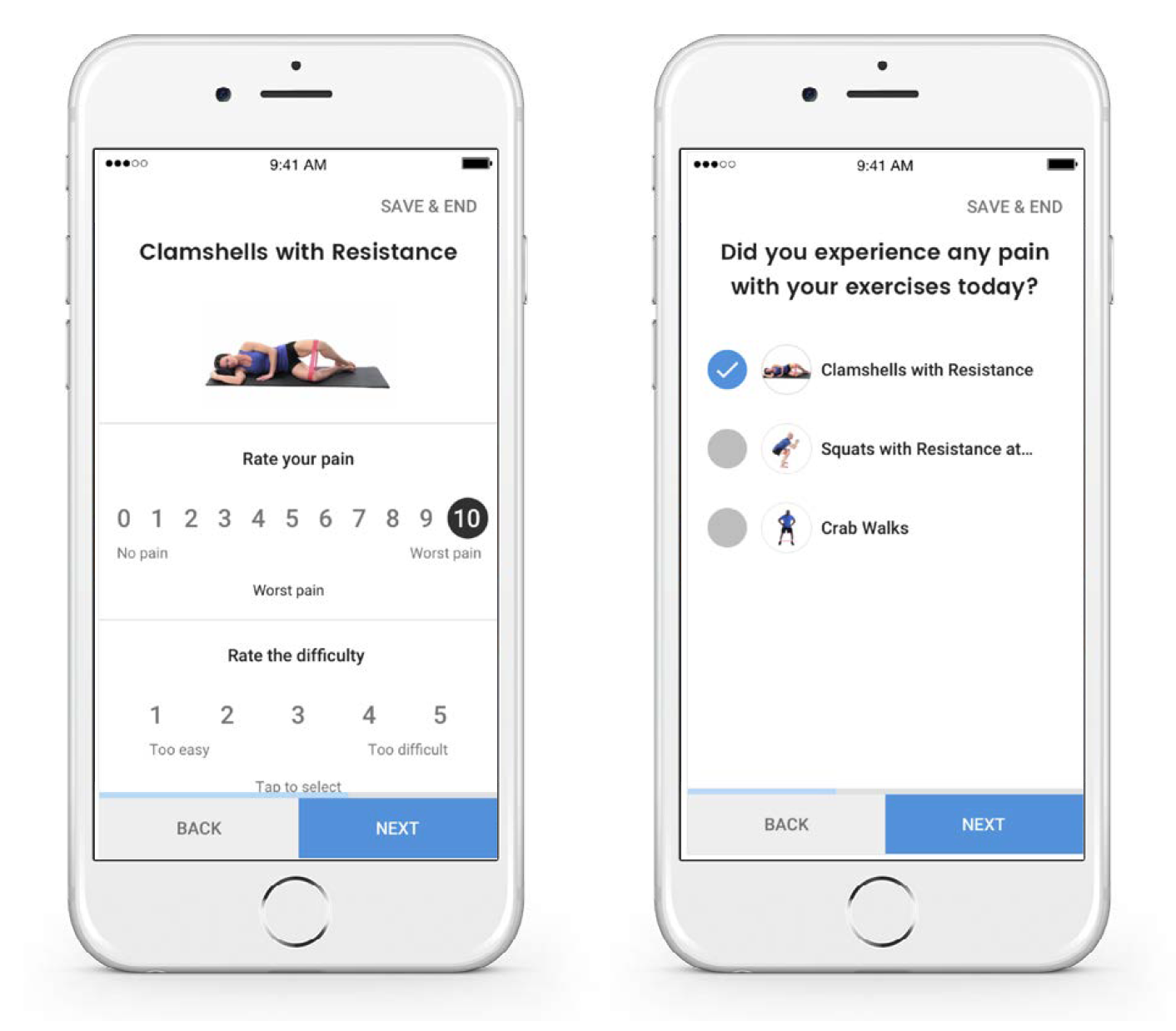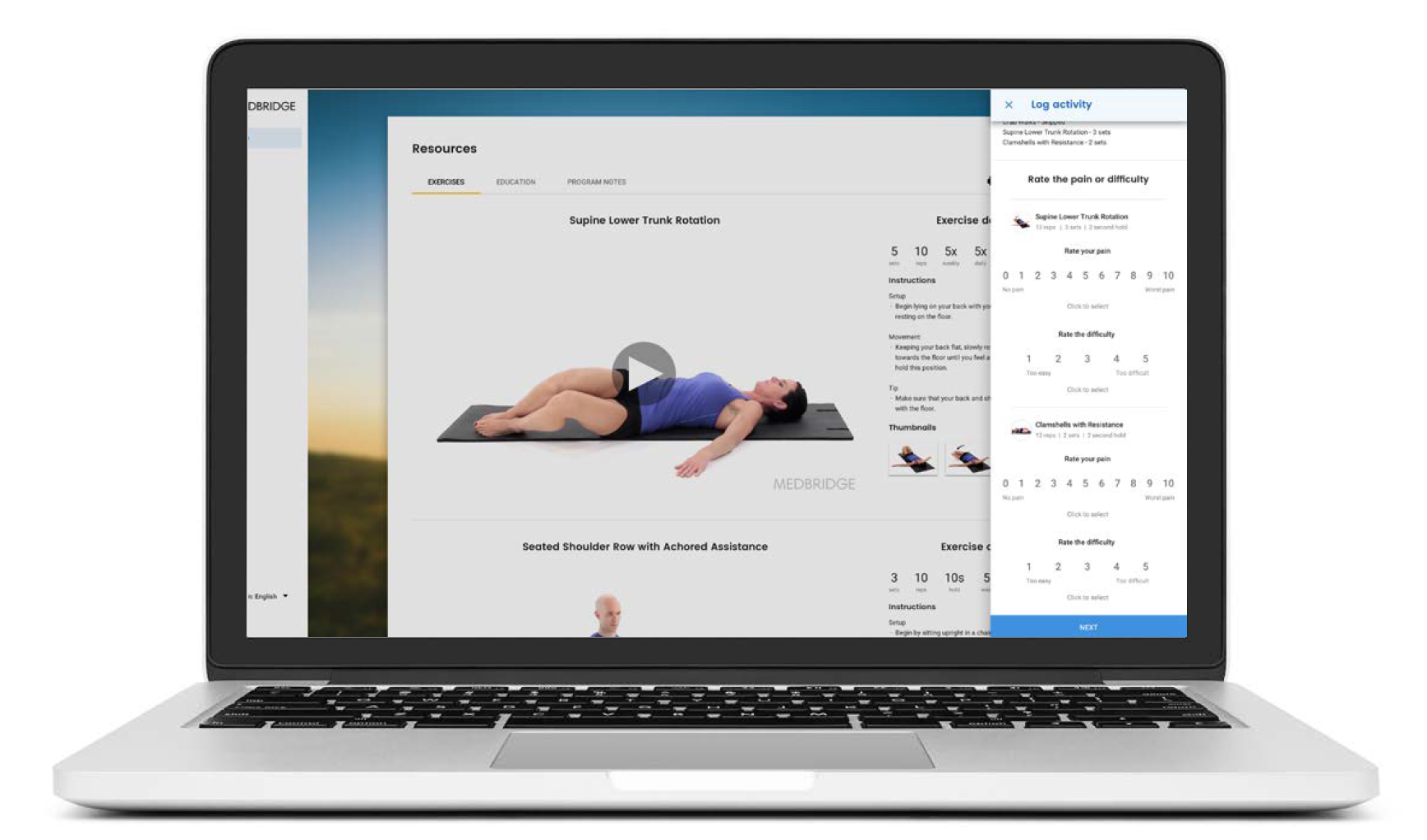 3. View reports to see your patient's adherence score over a period of time and whether they completed the program as assigned or skipped exercises.
a. Click on the patient's name from the Patient tab
b. View the new patient profile with updated adherence tracking. Here, you'll find an overview of your patient's adherence to their home program.
c. Dive deeper into the reasons behind your patient's adherence score by clicking
VIEW DETAILS.
d. With pain and difficulty tracking turned on, you'll see which exercises your patients marked as painful, too easy, or too difficult along with reasons why an exercise was skipped. These insights will help you determine whether changes should be made to the program.
e. If messaging is turned on for the organization and the patient, you'll be able to receive messages. Messages from patients will appear under your message tab. Click to open the message drawer and respond to your patient.
f. If a patient sends you a message, you will be able to respond to them directly.
All communications are secure and HIPAA compliant.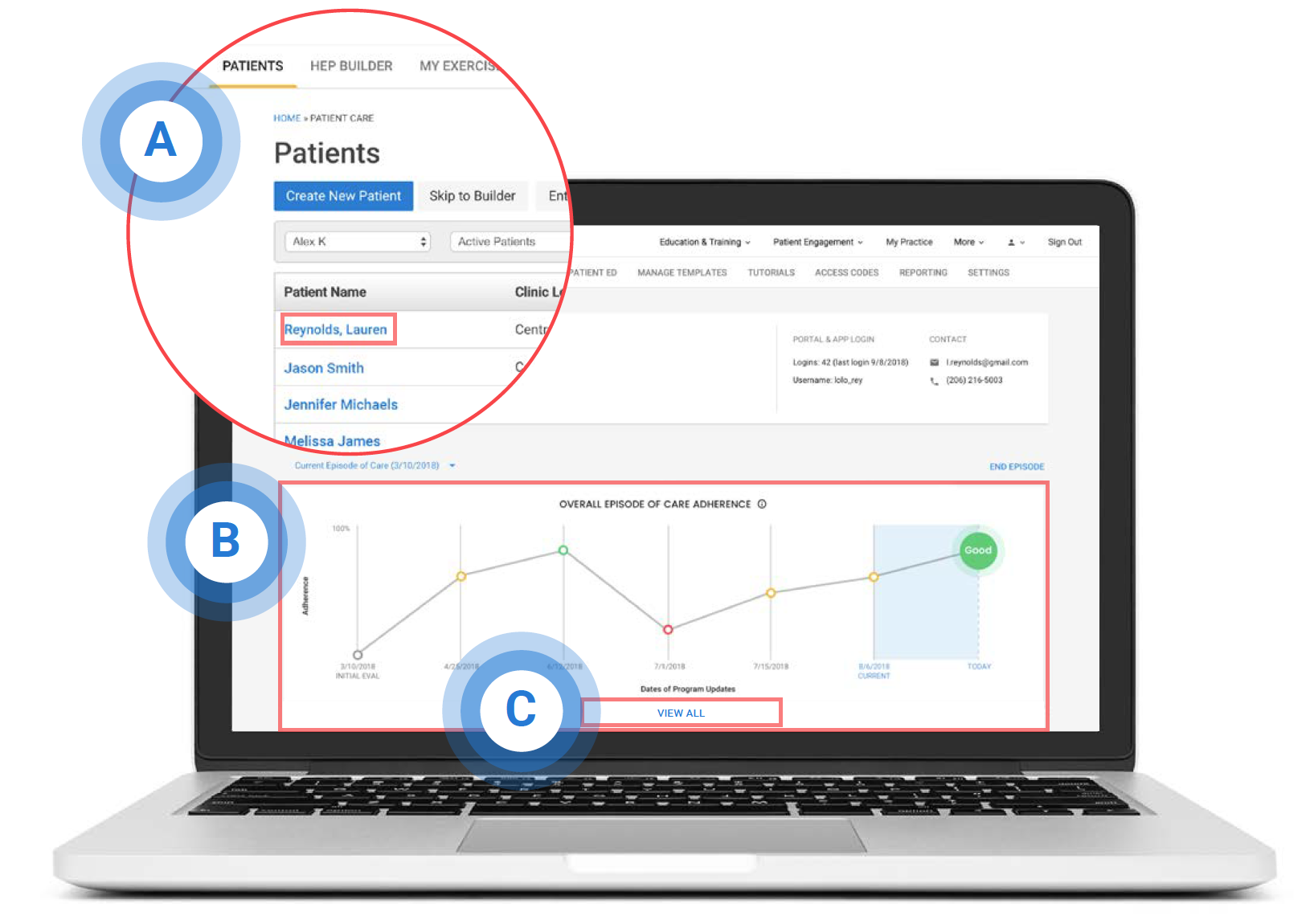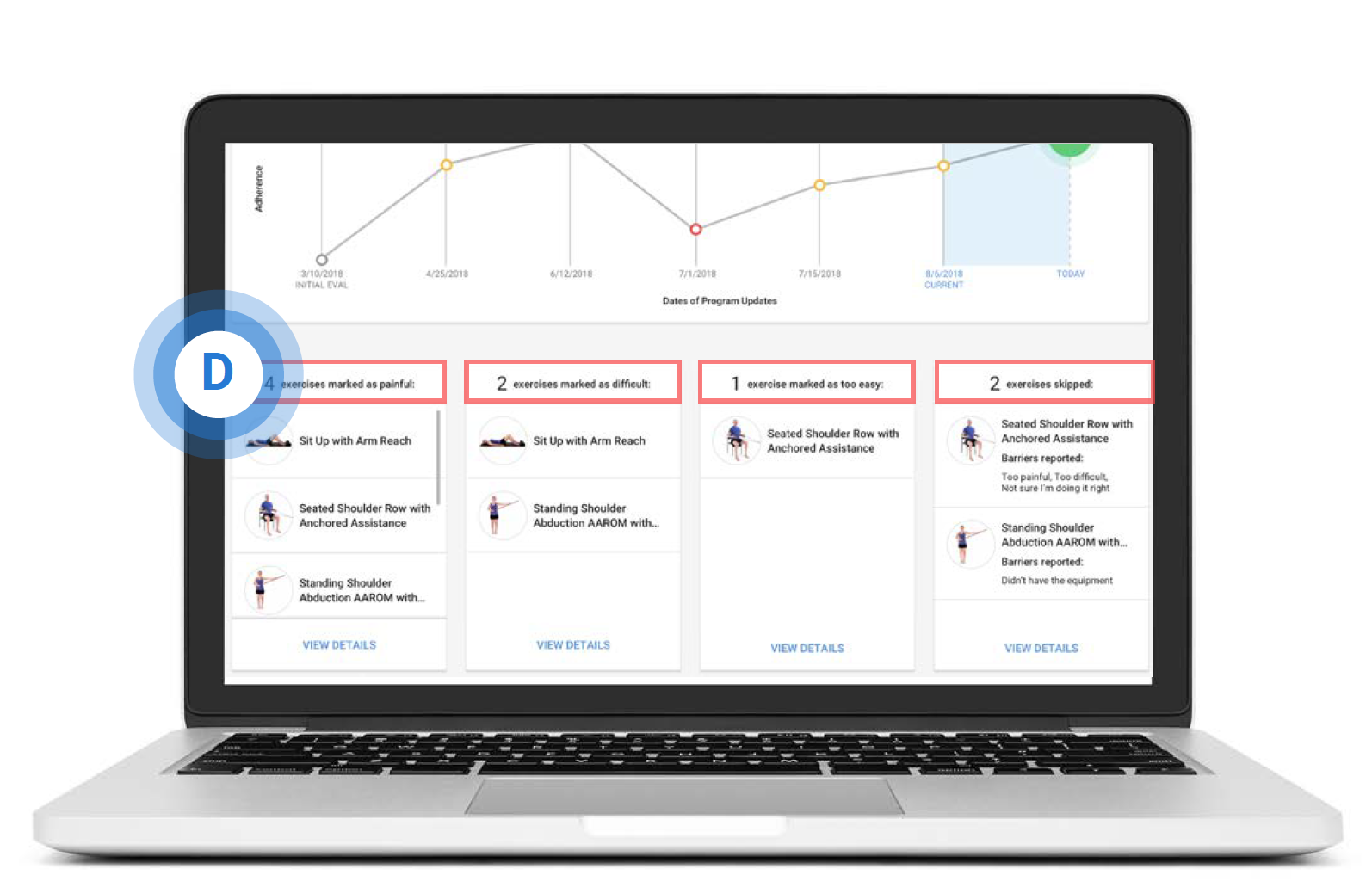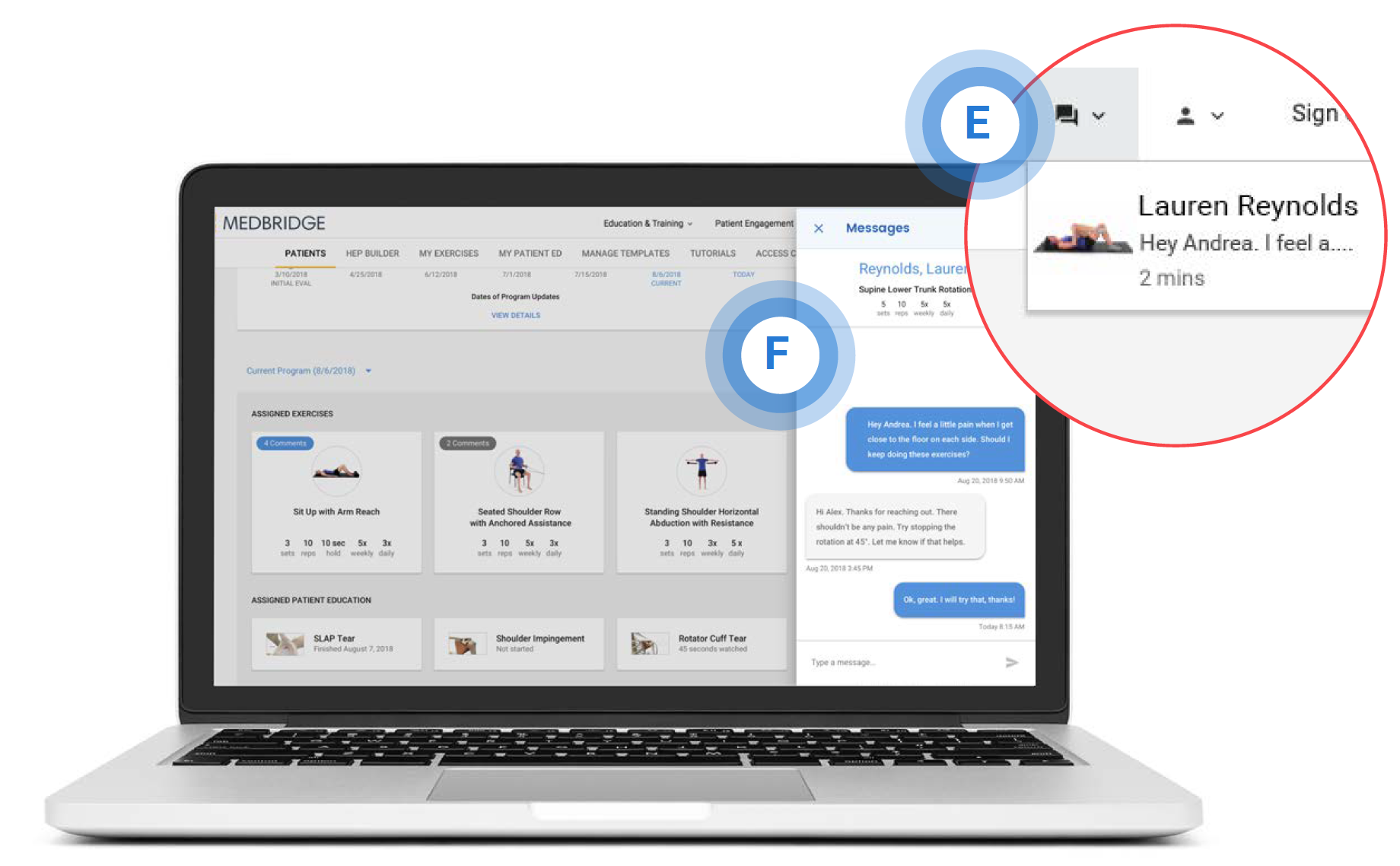 How is patient adherence calculated?
The chart graphic provides feedback based on average completions throughout an episode of care as well as individual points in time (see the legend, available when you click the "info" icon). If a patient has yet to complete their exercise but they still have time to complete it within the week (for example, an exercise that is assigned three times a week), they are given the benefit of the doubt. If they miss the exercise and will not be able to complete it within the week (for example, missing an exercise that is assigned daily), this will count against their total completions.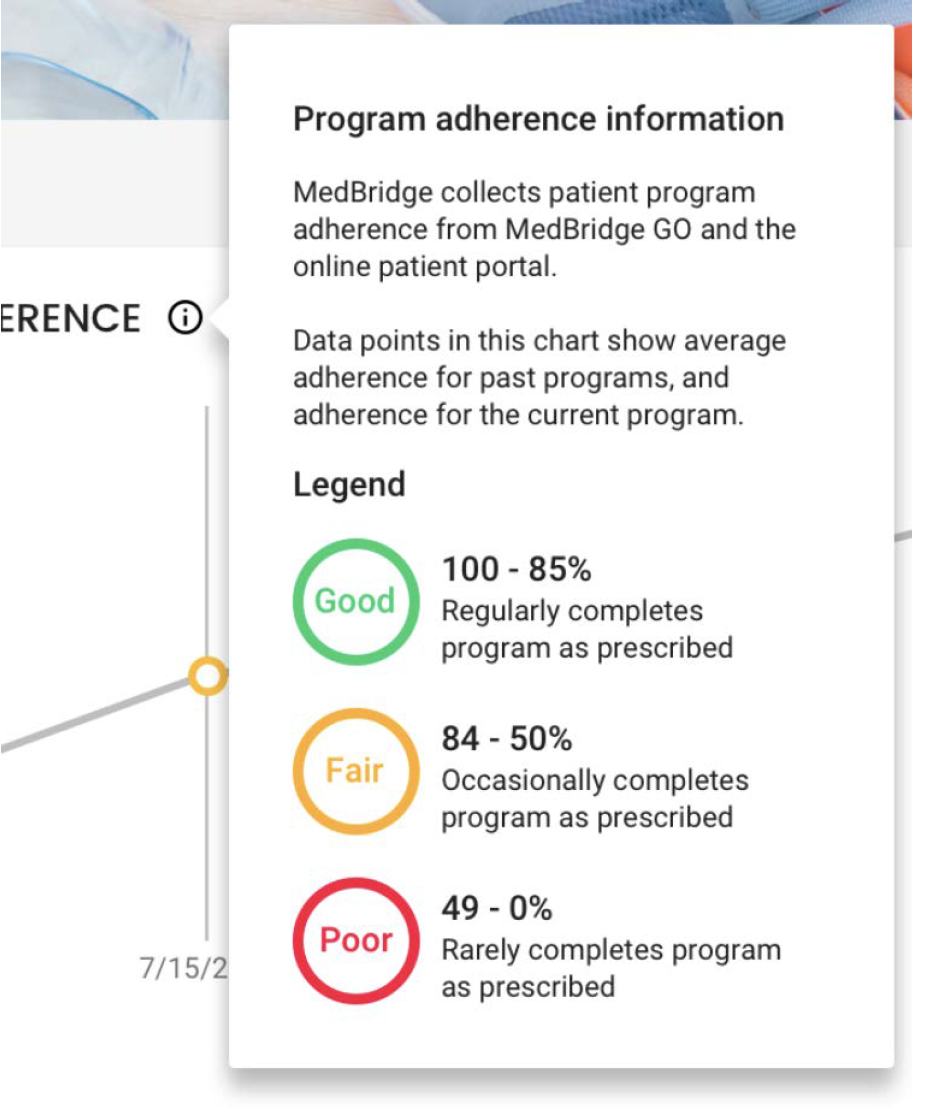 Note:
While all patients will be able to see the updated patient portal and patient app, only patients of clinicians using our standard HEP will have access to pain and difficulty ratings. Additionally, while all patients can track the reasons why an exercise was skipped, only healthcare professionals on our standard HEP will be able to see this data. To upgrade to a standard HEP subscription, please contact your organization's administrator.