MedBridge HEP makes it easy to monitor your patient's progress through their rehab with robust feedback and adherence tracking. In this article, we'll show you how review patient feedback and adherence from the patient profile.
Note: These features are part of our standard HEP Subscription. MedBridge HEP creates individual patient profiles within MedBridge, allowing organizations to attach assigned home exercise programs to actual patient names instead of access codes. Learn more about our standard HEP subscription and request a demo. 
How do I review overall program feedback and adherence?
You can review your patient's overall progress by visiting their profile. 
Open the MedBridge HEP. From your dashboard, hover over Patient Engagement and select Home Exercise Program. 
Search for your patient's name and select it from the list. You'll be taken to the Patient Profile.
At the top of the profile, you'll see high level details about your patient's program, including notifications if they have sent you any messages.
The Program Feedback card will tell you if your patient has reported any pain or difficulty. Select View Details to learn more about this feedback.
Scroll further down to see a graph of your patient's overall adherence. A new point will be created on this graph each time you update the program. Your patient's overall adherence will be rated as Poor, Fair, or Good. Learn more about how patient adherence is calculated. 
How can I get more information about my patient's progress? 
You can learn more about patient's progress by selecting View Details from the Program Feedback card or the Adherence Graph. 
At the top of this page, you'll see a breakdown of any pain or difficulty your patient has reported.
Further down, you can see a summary of all activity your patient has completed, including each set and rep they have performed.
How do I enable pain and difficulty tracking?
Your patient will be prompted to log their activity each time they follow along with their exercises in the MedBridge GO app, however pain and difficulty reported is not enabled.
When creating and assigning each patient's exercise and education program, you can enable pain and difficulty tracking. 
If you haven't already, you'll need to create a patient and build them an HEP. When you're creating the patient, make sure to enable pain and difficulty tracking.
If you are working with an existing patient, you have the option to toggle pain and difficulty tracking options using the Edit button in the patient's profile.
Once pain and difficulty tracking is enabled, your patient will be prompted to provide feedback each time they log exercise activity. They'll be asked to rate pain on a 1-10 scale and can rate difficulty from 1 to 5, with 1 being too easy and 5 being too difficult.

How is patient adherence calculated?
The chart graphic provides feedback based on average completions throughout an episode of care as well as individual points in time (see the legend, available when you click the "info" icon).
If a patient has yet to complete their exercise but they still have time to complete it within the week (for example, an exercise that is assigned three times a week), they are given the benefit of the doubt. If they miss the exercise and will not be able to complete it within the week (for example, missing an exercise that is assigned daily), this will count against their total completions.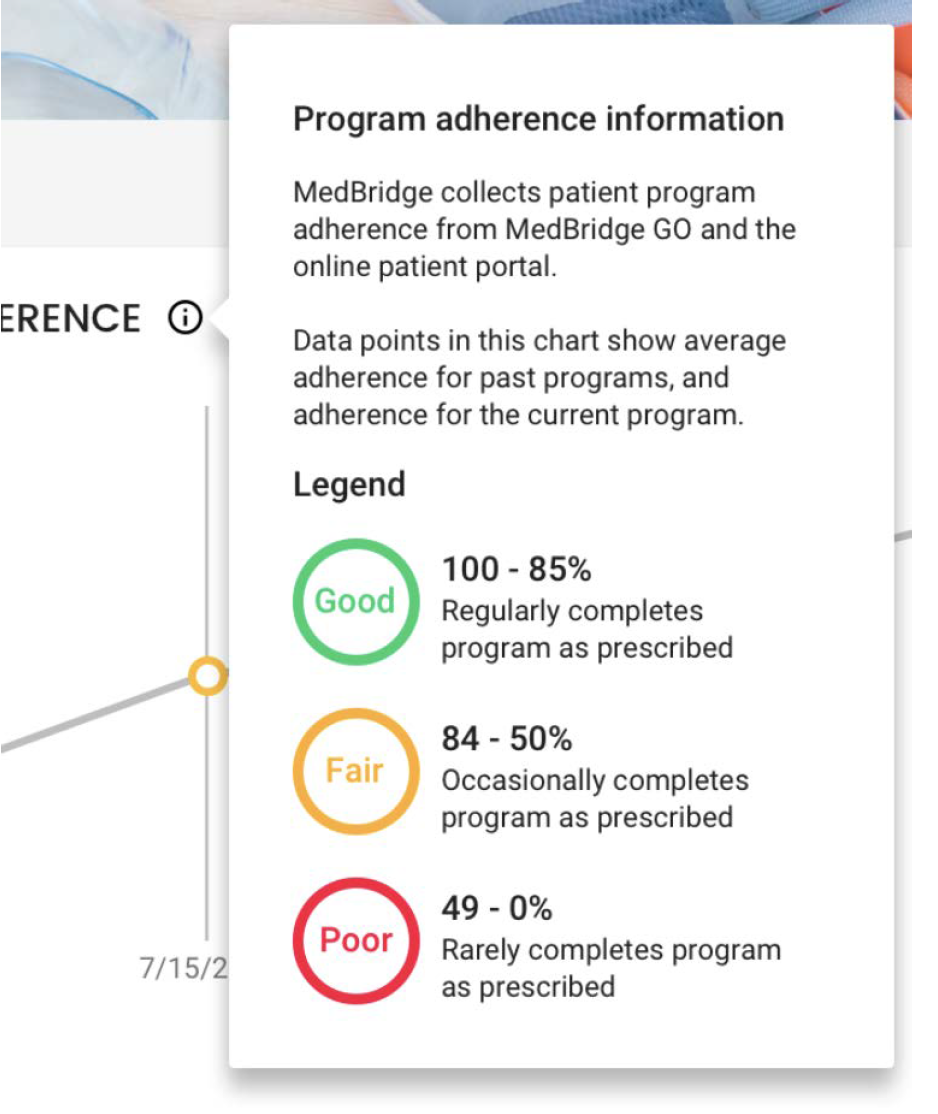 Note: Only patients of clinicians using our standard HEP will have access to pain and difficulty ratings. Additionally, while all patients can track the reasons why an exercise was skipped, only healthcare professionals on our standard HEP will be able to see this data. If you're interested in upgrading your subscription, contact our support team.