Here's a quick video that will walk you through how to build a Home Exercise Program (HEP) for your patients. Step-by-step instructions with images are below.
Each patient you build a HEP for will need a unique access code to see their program. The access code is: 
An eight-digit code that is assigned to your patient's home exercise program. 
A unique series of numbers and letters that are specifically assigned to the program you've created. 
What the patient will use to successfully launch their exercise program via MedBridgeGO or online patient portal.
Unique to each patient and cannot be recycled or duplicated for more than one patient or program.
The HEP Builder pre-populates an access code for you as soon as you have opened the builder.
Once you have completed creating the program and are ready to start building another program, start a new program so that a new access code is generated and each patient gets their own access code.
To access the HEP Builder, hover over the "Patient Engagement" tab and click on "Home Exercise Programs" button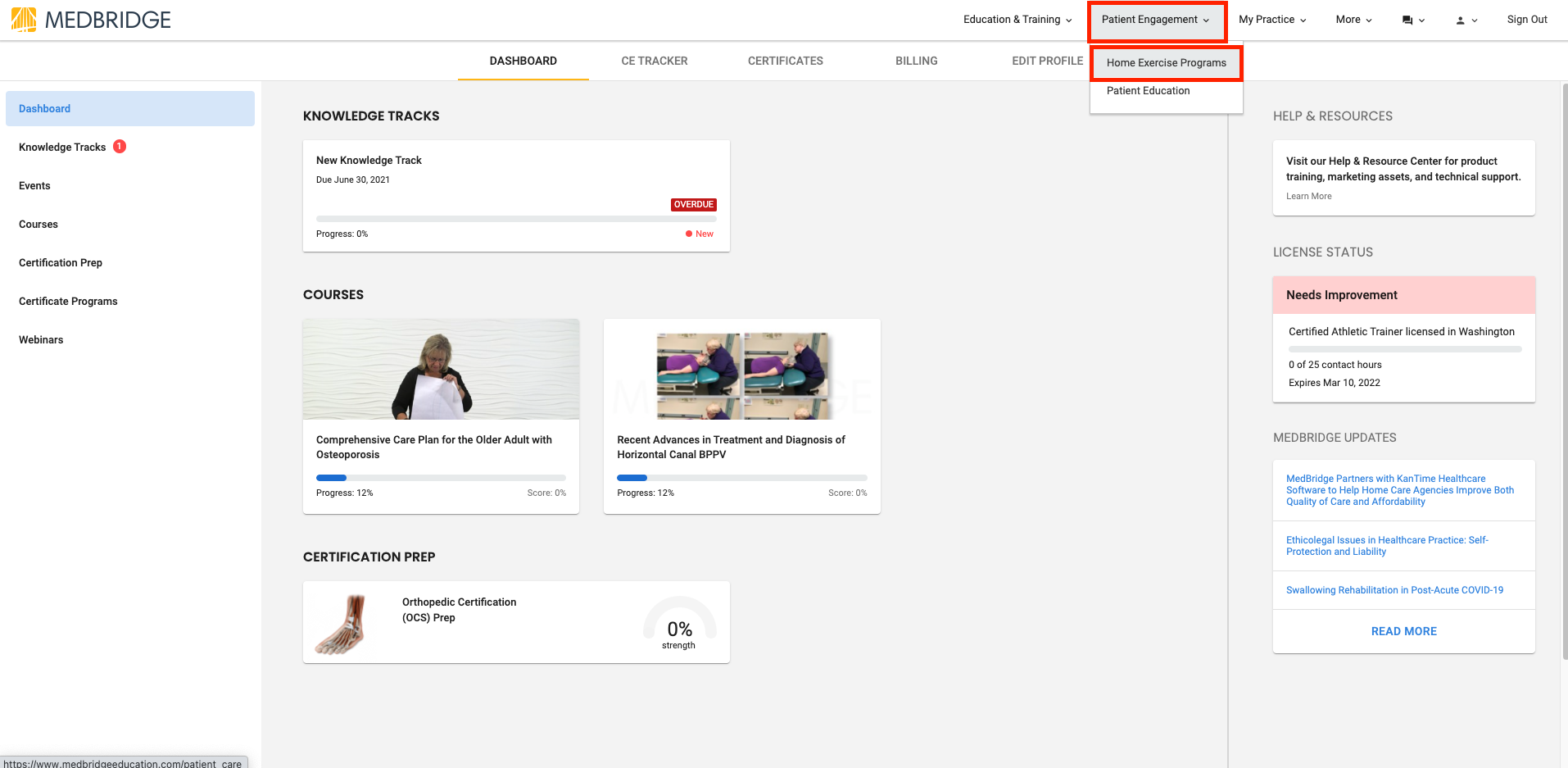 Click on the "HEP Builder" tab or the "New" Icon in the top right corner of the HEP Builder to create a new program.

After clicking ""HEP Builder" you'll see that another access code has been created for you to start building a program.
Begin creating the program once your access code has refreshed by dragging and dropping exercises on to the exercise area on the right side of the screen.
We recommend clicking "New" in-between patients so that you are starting with a unique access code each time that you're ready to assign a home exercise program to an individual patient.
Please Note: If the program was edited while using the same access code, it is possible that the program was showing a set of different exercises because the access code was not reset in-between patients. To remedy this, create new programs for both patients who were impacted, so that the individual patients are assigned new and unique access codes and are prompted to complete the correct set of exercises.