Note: This feature is available only for enterprise organizations using HEP Standard. If you or your organization is interested in upgrading from HEP Lite to HEP Standard, please contact our Sales team at sales@medbridge.com. 
More complex care plans require support across disciplines throughout the continuum of care, and keeping these care plans both consistent and distinct is vital to optimal patient outcomes. This is particularly important for patients with complex care plans that involve multiple care settings.
With Multiple Episodes of Care, you can categorize and name each distinct episode of care for your patients. This allows you to build HEPs more efficiently and ease care coordination while also improving the patient experience by segmenting concurrent care plans.
Below we walk you through how to utilize its features to create and manage multiple or concurrent episodes of care.
Table of Contents
Multiple Episodes of Care Update to the Patient Profile
When you log in for the first time after the new Multiple Episodes of Care update, you'll notice a few changes.
When Multiple Episodes of Care (MEC) has been enabled, the system will display an MEC overview in the Patient Profile or HEP Builder. This field overview will remain until the user has clicked "Got it" to close the window permanently.
Tooltips on the HEP Builder will also display to highlight the episode selector.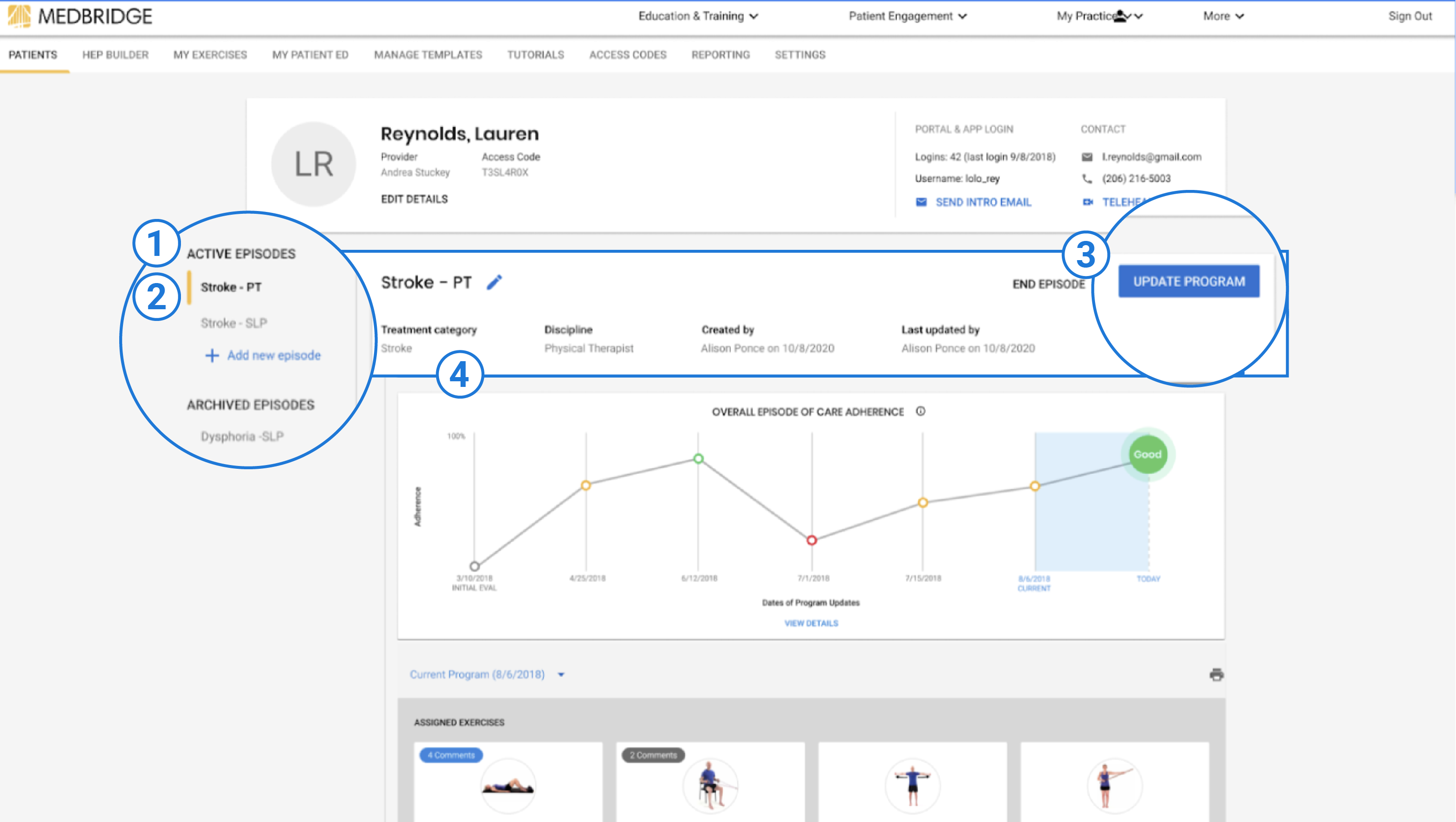 Active and archived episodes will now be displayed on the upper left hand side.
Selecting Episode Name will change the information displayed on the right side.
The Build/Update Program button is now displayed within the new Episode Details Card.
The Episode Details Card now includes

Treatment Categories.
Discipline Assigned.
'Created By' field.
'Last Updated By' field.
Creating a New Episode on the Patient Profile
An Add New Episode pop-up window will prompt the user to fill in the patient's episode details prior to navigating to the builder.
This will require three pieces of information:
Treatment Category
Discipline
Episode Name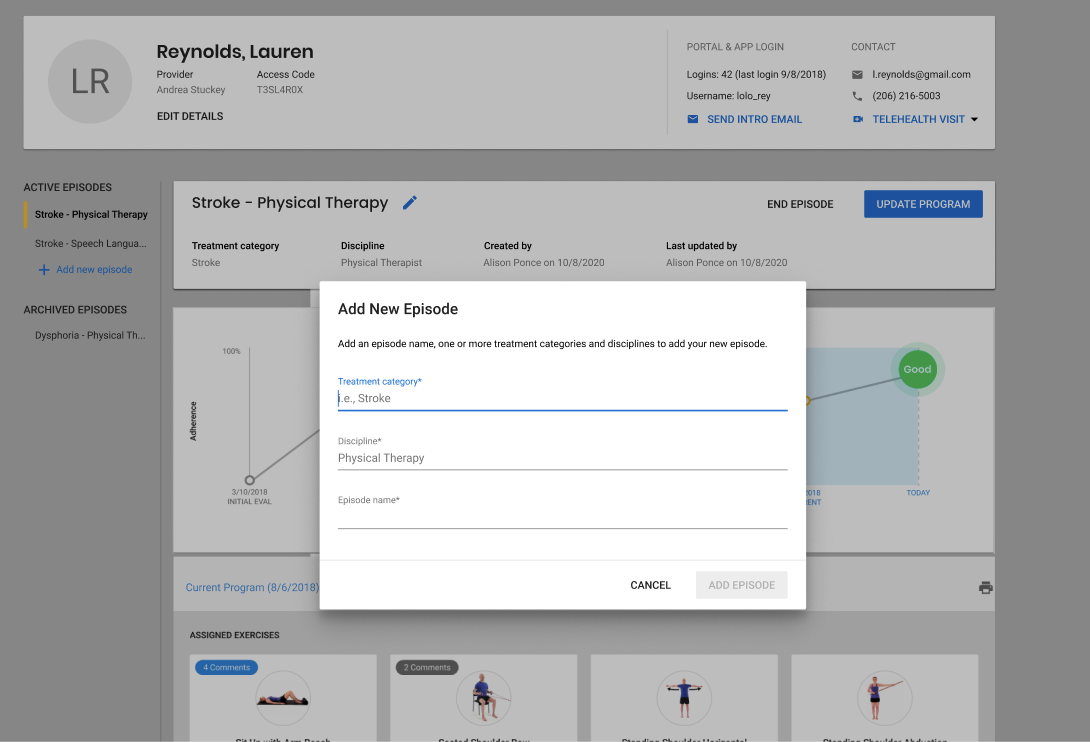 Select a Treatment Category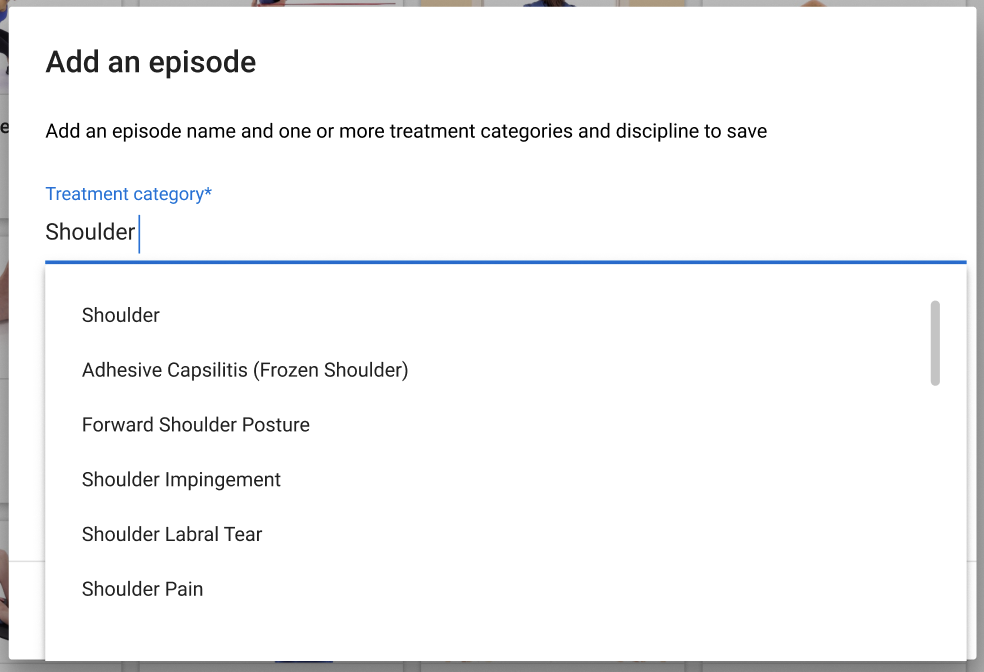 Once you begin to enter the Treatment Category, a drop down field will suggest categories based on your query. Categorization for the episode of care can be as broad as a body region, such as Shoulder, or as specific as you would like, such as Adhesive Capsulitis (Frozen Shoulder).
Add Multiple Treatment Categories

Once the Treatment Category has been created, users may add multiple treatment categories to the episode of care. As each category is added, a prompt will display below the Treatment Category search field. The episode name will also update to reflect the categories added. Users may add up to a maximum of five categories to a single episode of care.
View All Treatment Categories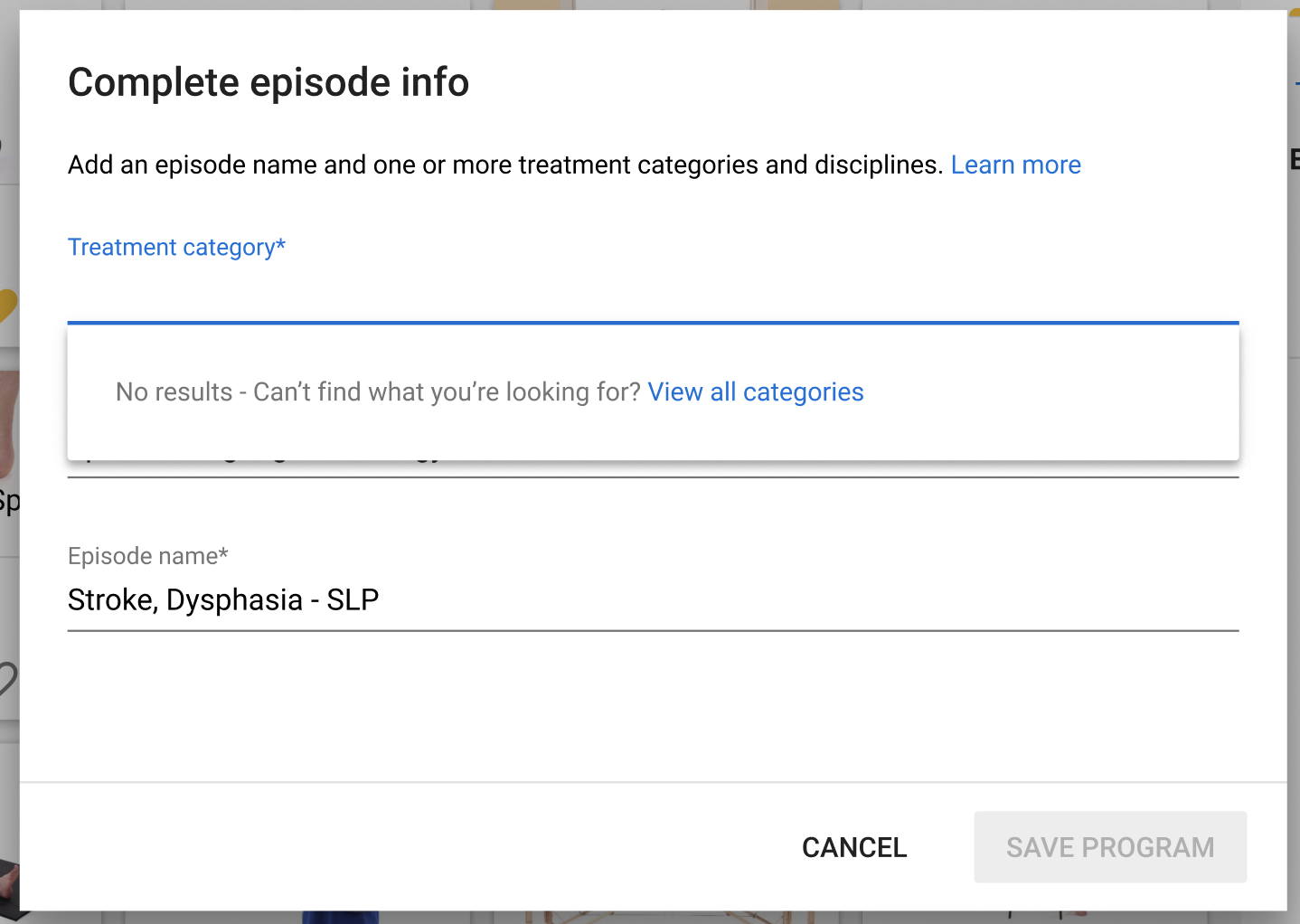 If the user cannot find the treatment category they are looking for, they will have the option to view all categories by clicking on the View All Categories link.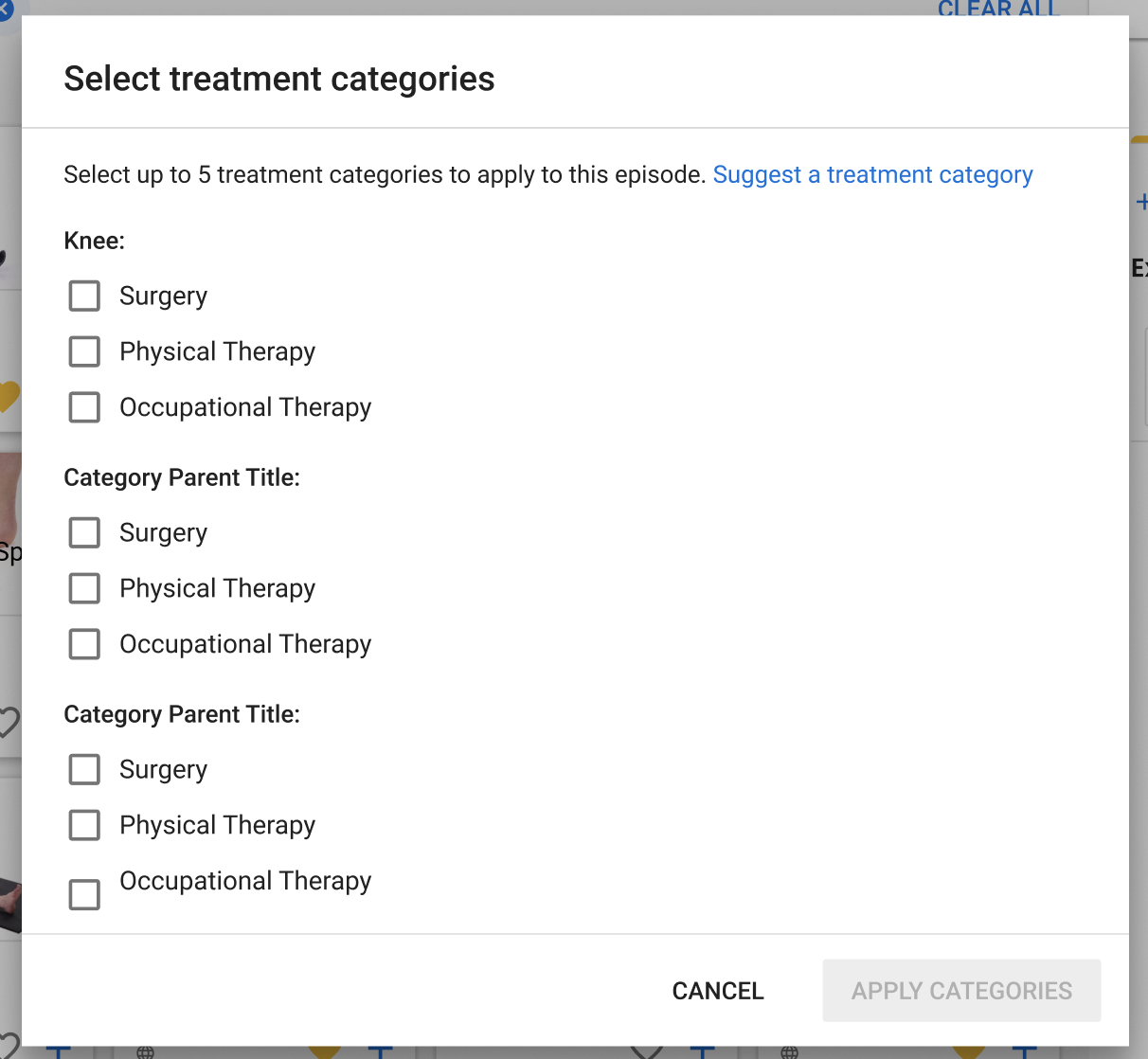 The field will change to display all treatment categories in a list with an option to select multiple categories, which have been organized into subcategories to allow for easier browsing. If users still cannot find the treatment category they are looking for, they can choose a general body region or select the "Not Specified" option and suggest a category using the Suggest a Treatment Category link at the top of the page.
Selecting an Episode on the HEP Builder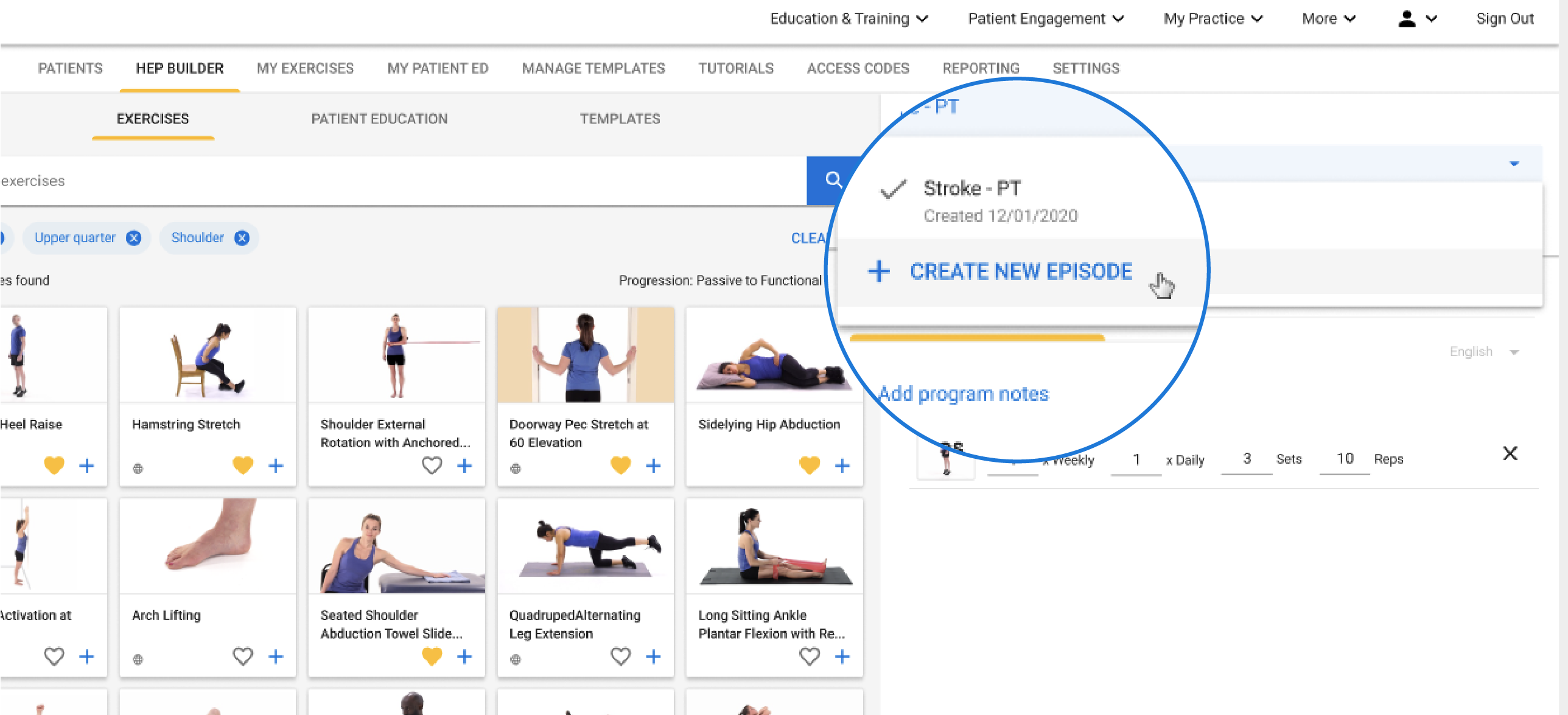 When a user creates a new episode from their patient's profile, it will pull them automatically to the builder. When users land on the HEP Builder, there will now be an episode selection menu. Users can select any active episode of care or create a new episode by clicking on Create New Episode. The Episode details will not display until after the user has added content to the program and clicks an action item, such as Save, Print, Email, Preview, Document, etc.
Multiple Episodes of Care—The Patient Experience
After the clinician has created a new episode in their patient's profile and adds the relevant treatment categories, their patient will be able to engage with the episode on their Patient Portal or on the MedBridge GO Mobile App.
Multiple Episodes of Care on the Patient Portal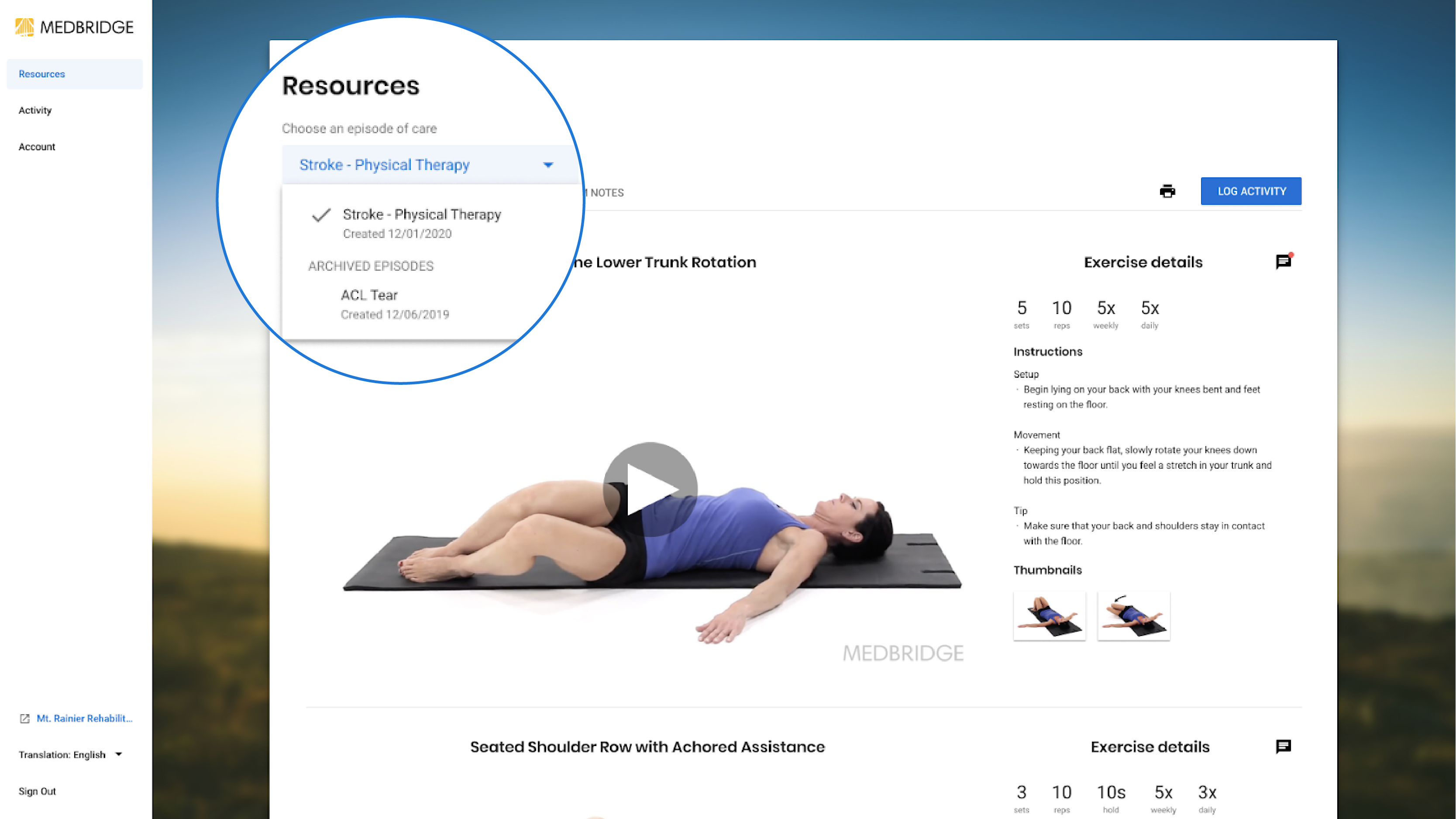 When a patient has more than one episode that was created for them, a new episode selector menu will display at the top of the Resources page. The episode selector menu will display the Active Episodes at the top and list the Archived Episodes (episodes that have ended) at the bottom. Selecting the episode will modify what is displayed on the remainder of the page.
Multiple Episodes of Care on the MedBridge GO Mobile App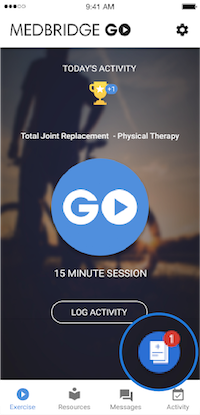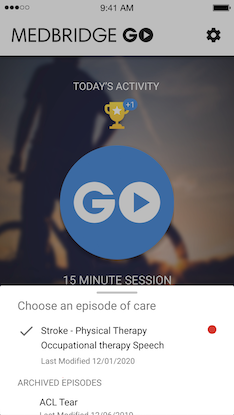 MedBridge GO patients will have a floating action button that displays if there is more than one episode of care assigned to them (for both active or archived episodes). Users can tap on the button to select the episode they want, and the app will refresh to display that episode's content. A red icon will display to show newly added episodes that have not been viewed yet.
Ending an Episode
Having many active episodes can make it difficult to manage reporting or find the relevant patient episode. To help manage your episodes, you can end an episode when the patient has been discharged or the episode is no longer relevant. Simply select "End Episode" from the patient profile.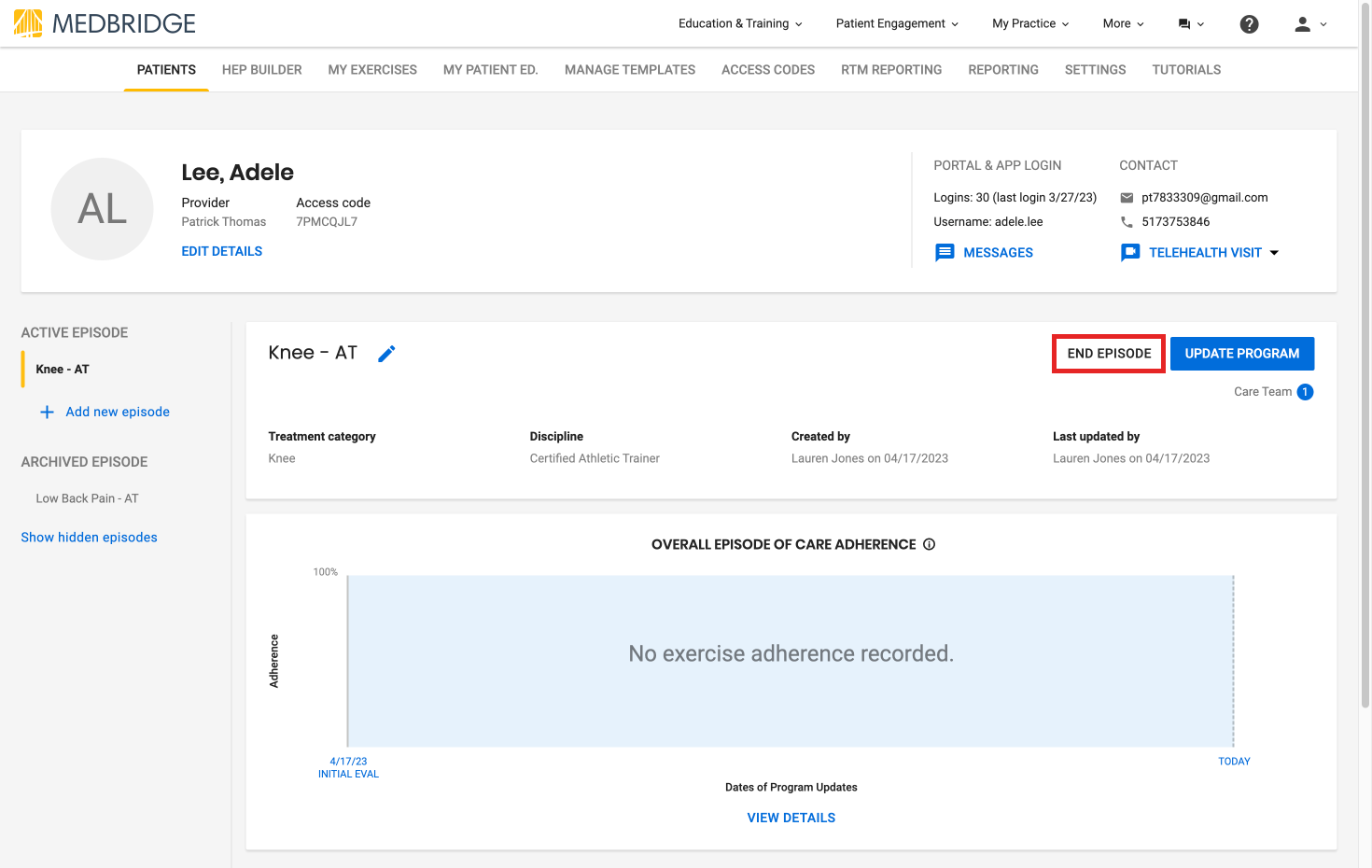 When you end an episode, your patient will still have access to their exercise content in the MedBridge GO app or Patient Portal so they can continue to reference the information as needed.
Once an episode has ended, you can also choose to hide the episode by selecting "Hide Episode." This removes the episode from your sidebar navigation, and removes the exercises from the patient's MedBridge GO app and Patient Portal.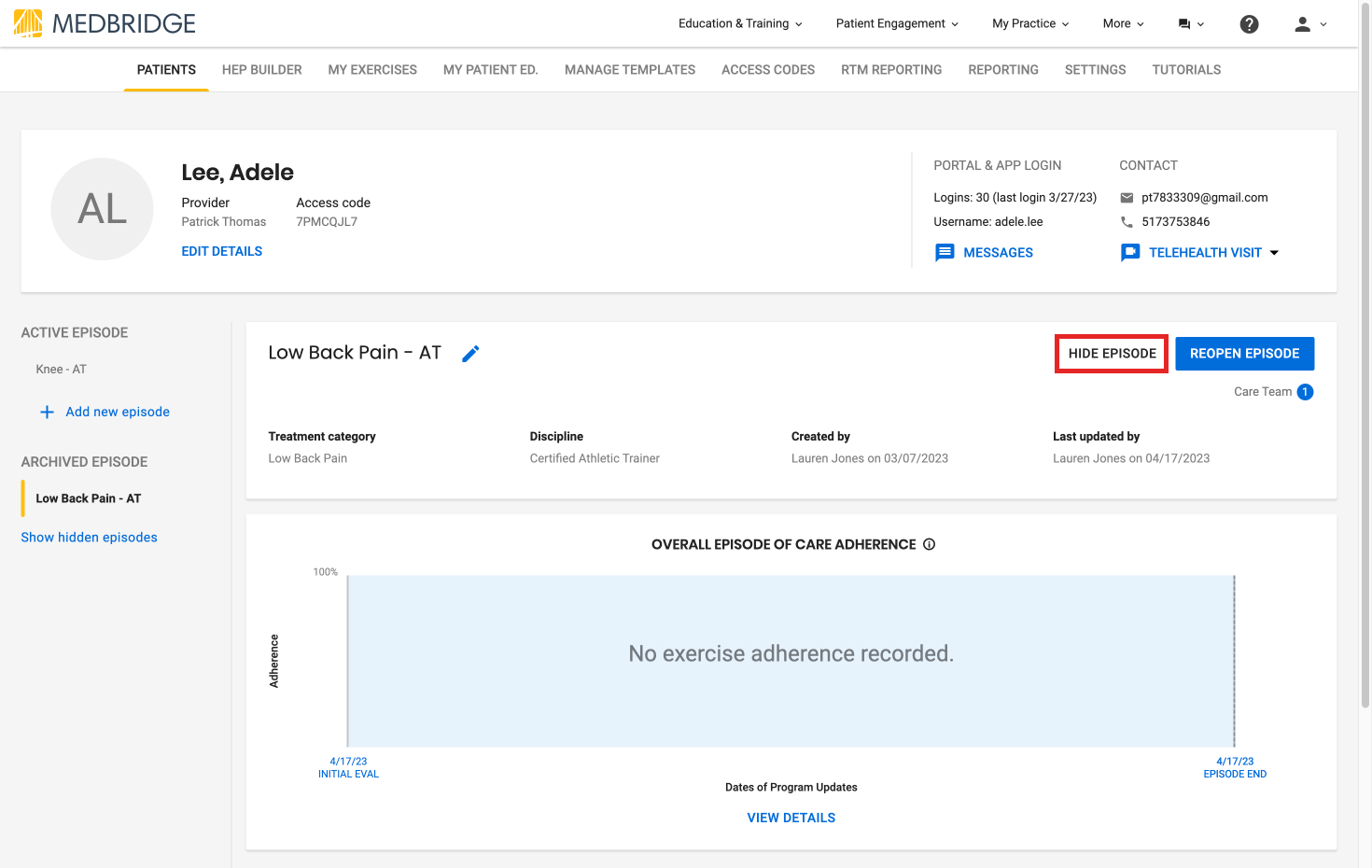 You can always reopen an episode that has been ended or hidden by selecting "Reopen Episode." You can view all hidden episodes by selecting "Show hidden episodes" on the left side of the screen.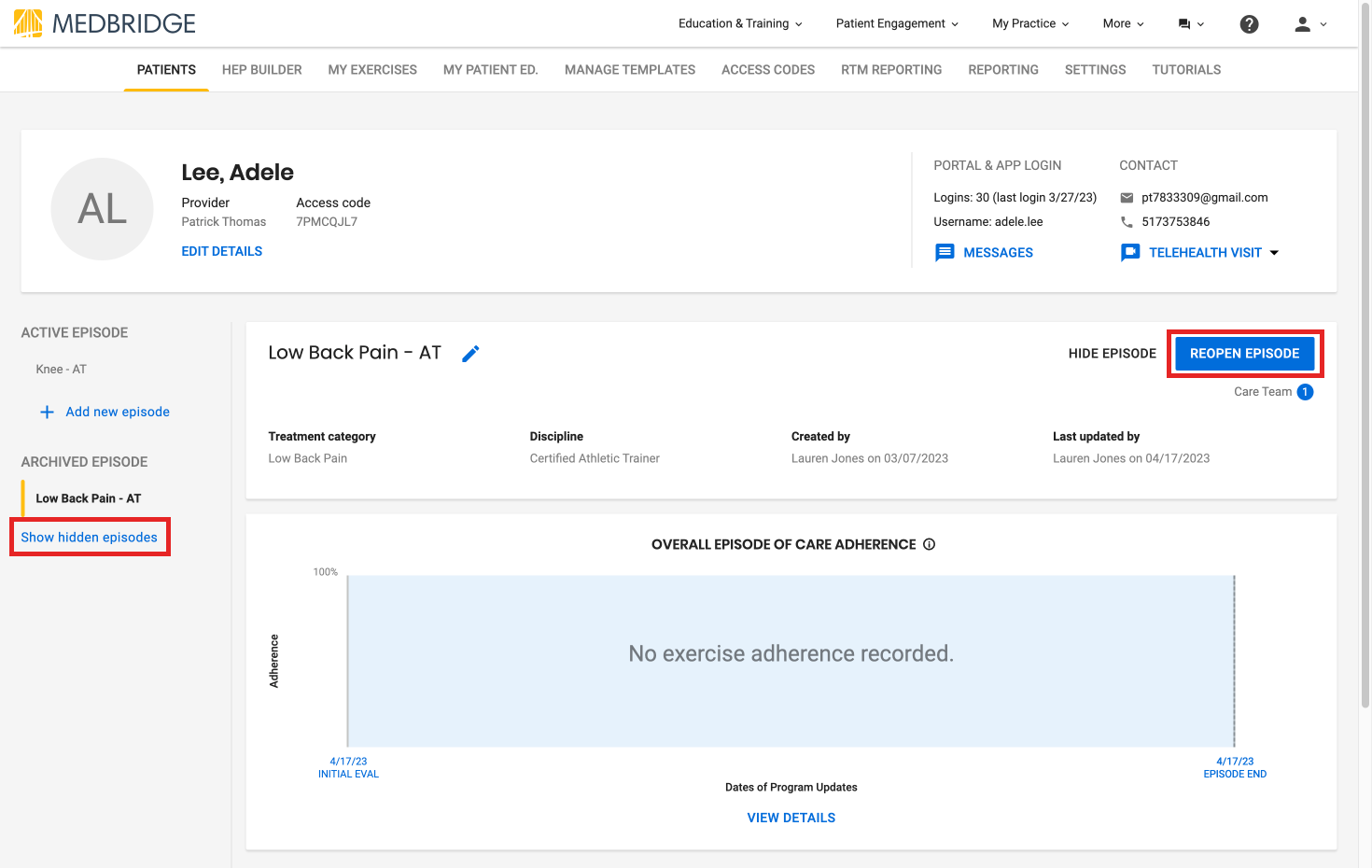 How Can I Access Multiple Episodes of Care?
This feature is available to organizations with an HEP license at no extra cost beginning June 28, 2021. If you have any additional questions or would like to upgrade to HEP to gain access to this new feature, contact MedBridge Support or your Account Manager.
Please note: this feature is not yet available to HEP Lite, NPS-enabled clients, or Casamba and Raintree clients.