While your patients progress through their RTM episodes of care, MedBridge tracks their activity, giving you insights you can use to provide better care for your patients, and build a stronger relationship with them.
To view your patients' activity and determine which patients need remote treatment, navigate to the RTM Reporting page.
From the Home Exercise Program Builder, select RTM Reporting to see all your RTM patients.

Select the appropriate tab to be taken to the data you need.
Enrollment - Determine which patients still need to enroll in their RTM program. Used to determine if patients are on track to hit billing milestones for CPT Code 98975
Engagement - Review patient activity. Used to determine if patients are on track to hit billing milestones for CPT Code 98977
Treatment - Analyze provider activity. Used to determine if patients are on track to hit billing milestones for CPT Codes 98980 and 98981.
Monthly Reports - Used to identify patients who are eligible for reimbursement for each code.
Data Definitions - Refer to this tab for clarification on what any data point means without the RTM reporting dashboards.
Data Definitions
In order to understand and use these reports, there are a few terms it will be important for you to understand. For more information about any of this data, refer to the "Data Definitions" tab in the reporting dashboard.
For the Device Set Up (989875) and Device Supply (98976, and 98977) codes, your organization can choose to use one of two data points to determine eligibility:
Access Days: The number of days since the patient first logged into their program.
Activity Days: The number of days a patient has recorded an activity, such as logging an exercise, reading or responding to a message and logging in. See the data definitions tab for a detailed list of all tracked events.
Activation: An RTM episode is considered active when a patient has logged into their program via MedBridge Go or the Patient at least once after RTM is enabled by the care team.
Onboarded: A patient is considered onboarded when a provider has documented that onboarding has been completed in the MedBridge RTM Activity Log.
Opt Out Date: Once RTM has been enabled for a patient, you have 7 days to disable RTM. This data point indicates the last day you can disable RTM. After 7 days, if you need to remove a patient from RTM tracking, you'll need to end their episode. Learn more about disabling RTM episodes.
Enrollment Dashboard
From this dashboard, you can manage all your patients who have been enrolled in RTM. The analytics on this page help you manage recent RTM enrollments to identify patients who have activated their programs and whose onboarding has been recorded by providers in the RTM activity log.
Reaching these milestones is important to ensure your patients are engaging in their digital program and that you can be reimbursed for providing RTM to your patients. From your dashboard, you can determine if patients are on track to hit billing milestones for CPT Code 98975. In order to be eligible for that code, patients need to have
Been educated about their home program and onboarded to MedBridge
Activated their home program by logging into the MedBridge Go app or patient portal
Been monitored for at least 16 days in a 30 day period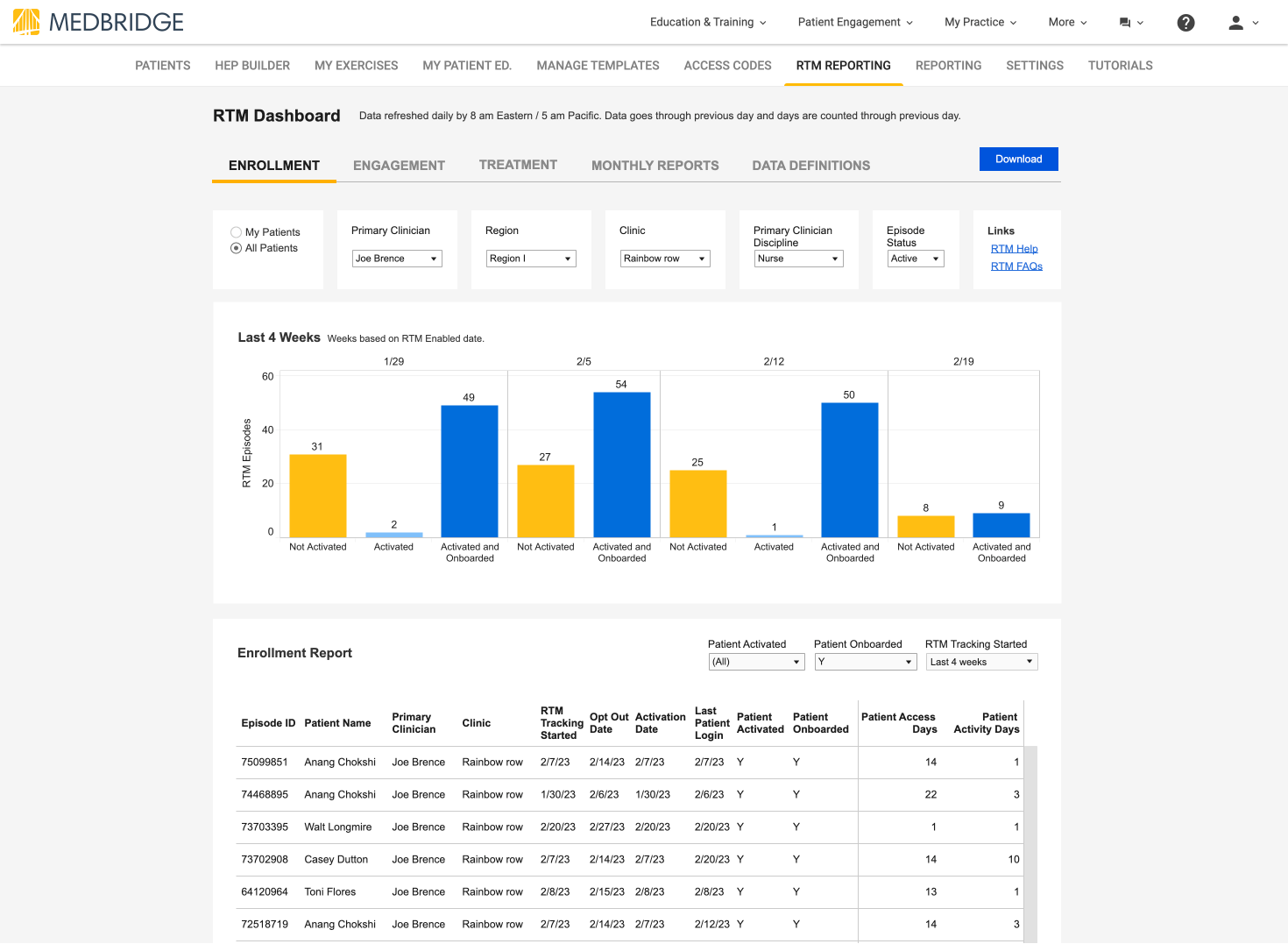 At the top of the page, a graph will show a summary of all your patients who have been enrolled in RTM in the last four weeks. Each week may have up to three bars in its graph. These bars show the number of patients who have
Not activated (yellow)
Activated but onboarding has not been documented (light blue)
Activated and completed onboarding (dark blue)
In order for patients to be eligible for 98975, all patients need to be activated and onboarded (represented by the dark blue graph). Your goal is to always have the dark blue bar be the tallest graph.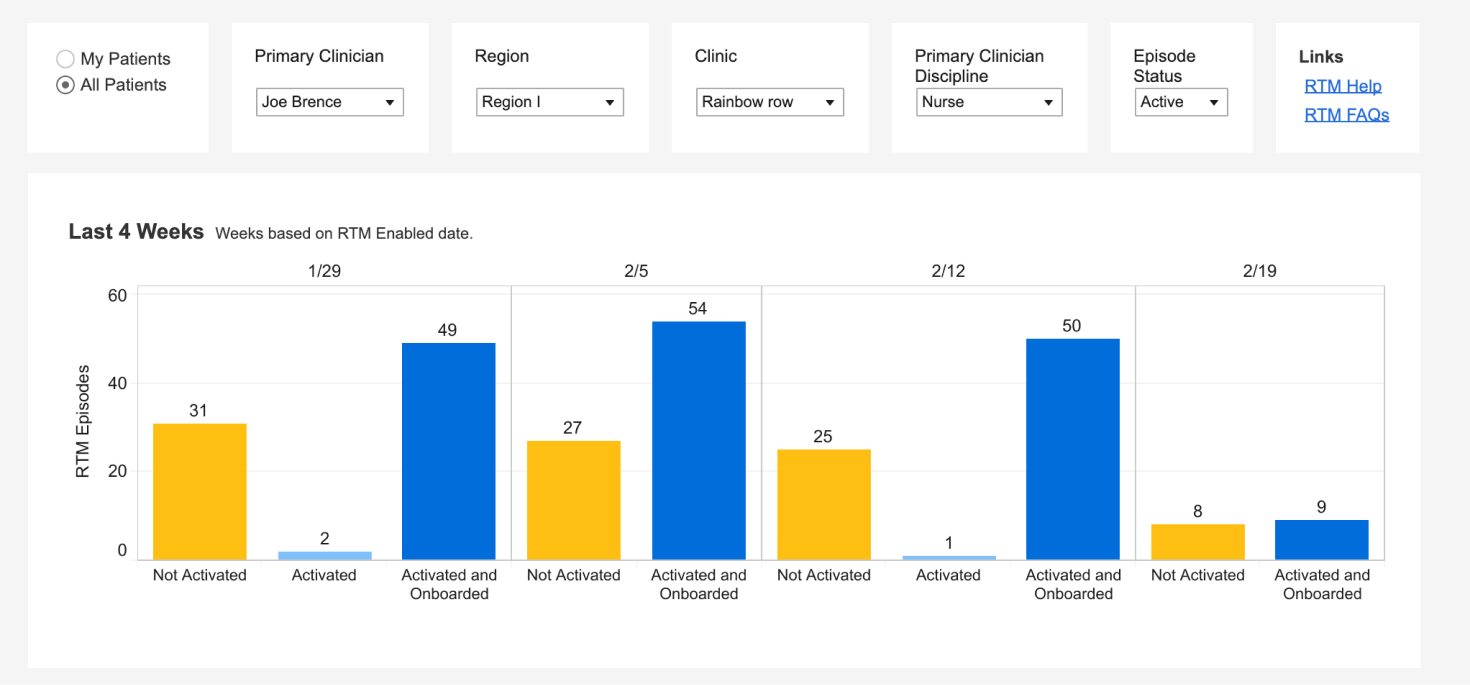 Scrolling down the page, you can see more details about each of the individual patients. Each patient has their own row with a number of data points represented in columns. There are a few columns you should focus on
Patient Activated: If a patient has an "N" in this field, they have not yet logged into MedBridge. If a patient has not activated, consider calling that patient or discussing activation in their next visit to determine if they had any difficulty logging in.
Patient Onboarded: If a patient has an "N" in this field, that means their onboarding was not logged in the MedBridge RTM Activity log.


If the patient hasn't been onboarded, make sure to talk with them about their MedBridge program during your next call or in-person visit.
If the patient has been onboarded but that activity was not logged, make sure to log it in the patient profile.

Days of Monitoring The final data point you need to look at is if the patient has been monitored for 16 days. There are two data points you can use to assess this. Check with your organization to determine which data point you should use for each code (98975, 98976, 98977).


Patient Access Days: This column shows how many days the patient has been monitored (i.e. how many days it's been since they first logged in).
Patient Activity Days: This column shows how many days the patient has recorded activity (i.e. logged exercise activity, sent a message, etc.)
Once the column your org is using shows 16 days, if activation and onboarded both have a "Y," this patient may be eligible to be billed for with CPT Code 98975.

If you've identified a patient you need more information about, such as a patient who has not activated, you can click on their name and then select Patient Profile. This will take you to the patient's profile, where you can review their activity, send a message, or give them a call. This type of outreach helps build a stronger relationship with your patients and helps them reach their goals.

How do I reduce reporting noise within this dashboard?
As you add more patients to RTM, these dashboards will accumulate significant amounts of data. It can be helpful to end older episodes in order to reduce reporting noise. This dashboard can help you identify episodes that are ready to be ended.
To identify these episodes, use the "RTM Tracking Started" filter to identify episodes older than the last 4 weeks. You can then sort by last login date or RTM tracking start date to identify older episodes that might need to be ended. If an episode needs to be ended, you can select the patient's name, then patient profile, and end the episode from their profile.
Remember patients don't lose access to their exercises and education when you end an episode. Patients will still have access to the material they need, but they will no longer be tracked for RTM, helping you reduce the number of episodes in your reports.