Now it's even easier to collaboratively care for your patients with your colleagues. You can now assign multiple providers to a patient's episode of care using MedBridge.
When you create a Care Team, all providers in that team will receive a notification when a patient sends a message, ensuring the patient gets the appropriate follow-up as quickly as possible.
To assign a Care Team, start by navigating to a patient's profile.
From the patient profile you can see if the patient has any other providers in the care team for their current episode. You can select Care Team to see which members are part of the team
To add additional providers to the current episode's care team, select Edit Details.
Under Care Team, start typing the name of a colleague you'd like to add to the Care Team. Select their name to add them to the Care Team.
The provider's name will be added below the Care Team box. You can click the "X" next to a provider's name to remove them at any time.
Note that when adding Care Team members, the only clinicians who will be listed are users who belong to the same clinic(s) as you. MedBridge administrators can add you or another clinician to a clinic if needed.
You can also add Care Team members when creating a new episode. By default, you will be added as a member of the Care Team, but any additional members can also be added.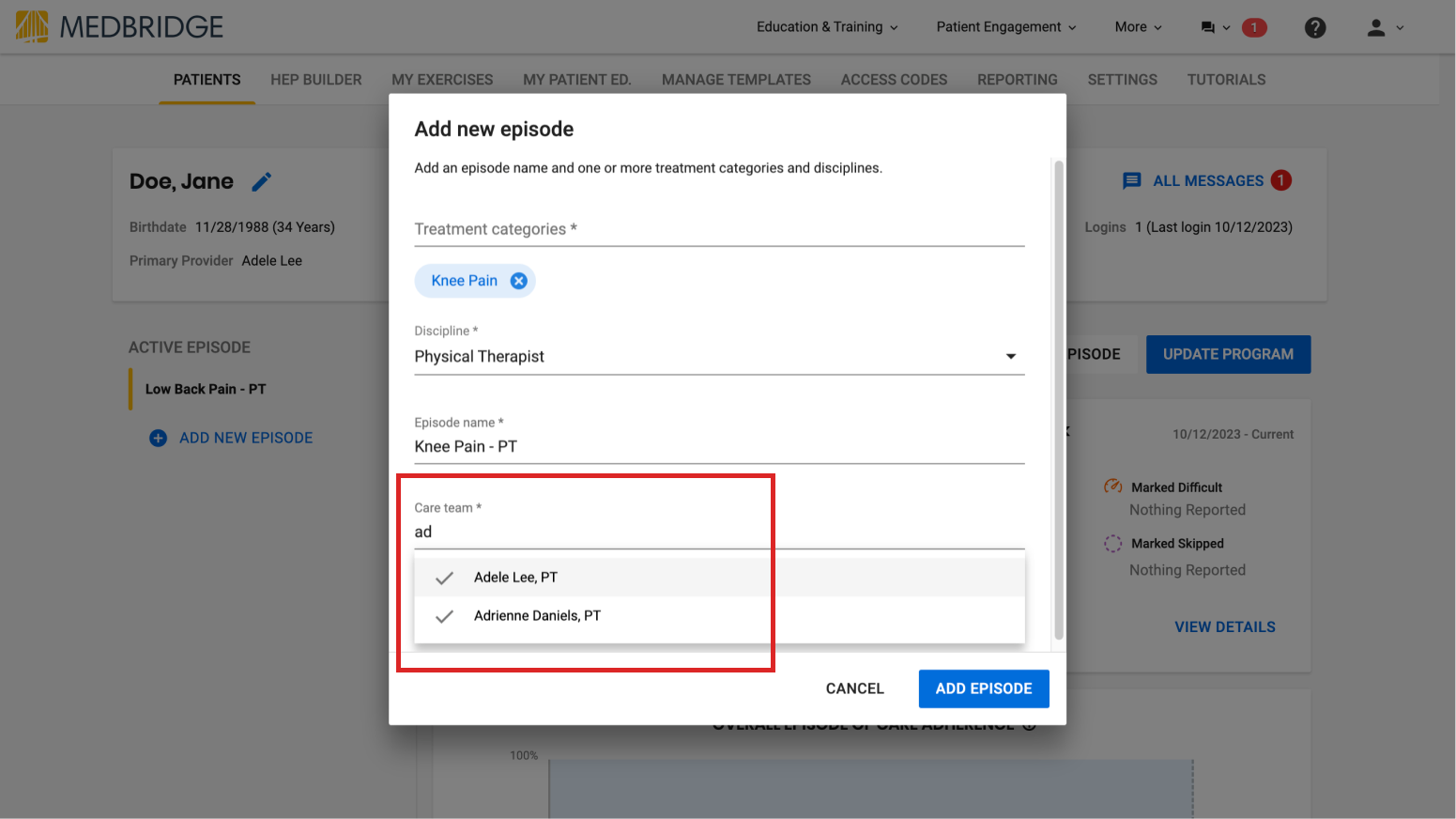 When multiple clinicians are on a Care Team, every clinician will receive a notification each time a patient sends a message. Clinicians will not be notified if another clinician sends a message. Messages will be marked as unread and there will be a notification in your account until you read them, they will not be marked as read when another clinician reads the message.
Note: This feature is available only for enterprise organizations using HEP Standard. If you or your organization is interested in upgrading from HEP Lite to HEP Standard, please contact our Sales team at sales@medbridge.com.