When will Pennsylvania get my course completion?
MedBridge submits course completions to the Pennsylvania Department of State each week. The state's database records course completion when submitted credentials "match" state records. MedBridge will notify you of the state's results when received.
Please allow 10 days from course completion to receive a PA Department of State status update from MedBridge.
Course completion is linked to the individual and applied to all applicable PA licenses.
To complete the course you must:
✓ Watch the course in its entirety
✓ Finish the Learning Assessments
✓ Complete the Participant Survey
Why do you need my SSN and Date of Birth?
The Pennsylvania Department of State database uniquely identifies a user to their course completion based on:
First Name
Last Name
Date of Birth
Last four digits of SSN
If any of those components are missing or does not exactly match PA state records the database will return a "not match" result. Your course can not be recorded to your record without all information above.
Is my information saved?
To update your profile, go to: https://www.medbridgeeducation.com/myprofile/edit
You will need to update two sections on this page. After updating fields in one section you must wait for the page to refresh and show the green confirmation banner before updating other sections.
Follow these steps to add your date of birth: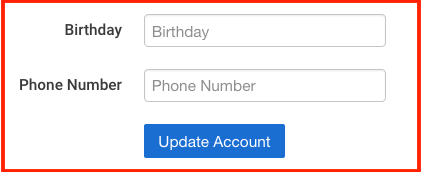 Successful upload will show a green banner at the top of the page:

Follow these steps to add the last four digits of your SSN.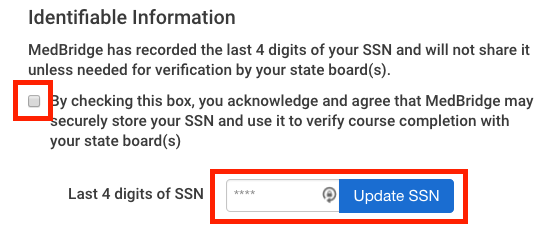 Successful upload will show a green banner at the top of the page:

If you didn't check the confirmation box in step 1 you will get this error message at the top of the page:

If you did not enter 4 numbers for step 2 you will get this error message at the top of the page:

I'm applying for a new license or transferring my license to PA. How does this work?
The Pennsylvania State Department's database needs to have your information entered before it can record your Child Abuse Course completion. Submit your application to the state of PA. PA's database will continue to search for your credentials (Name+DOB+SSN) to link to course completion information.
If you notified MedBridge that your application was sent in, we will continue to submit your course completion until we receive confirmation it has recorded. You may receive an email from MedBridge that results do not match if the state has not added your credentials to their database yet.
Should completion information continue to not match with PA database information, you may be asked to re-confirm your credentials on both your MedBridge profile and the PA State's records.
When the state records your completion based on a previous submission, MedBridge's new submission will return a "duplicate education" result. This means your course completion was matched, and already exists in your PA records.
My profile is correct and MedBridge says my information didn't "match" - what do I need to do?
Please confirm your MedBridge profile information is correct. If your MedBridge profile is correct, you may need to contact PA state to confirm the accuracy of their records (717-783-7134). The state can only confirm DOB and SSN information with the license holder/applicant.
If you are a new licensee or license transfer to PA, reply to MedBridge Notification to confirm once you've submitted your application to the state. We will continue to submit until we get confirmation of "matched" status.